Lesezeit:

47

min
In March 2020 I tore my anterior cruciate ligament in my right knee and at the same time tore the inner ligament. Without accompanying injuries and with undamaged menisci. Surgery was in July 2020. So here is another perspective for fellow sufferers on this diagnosis.
Note: The article is very long and detailed. So here is a table of contents – with a click you can jump directly to the respective chapter. 
Disclaimer
All information relates to my healing process after a cruciate ligament tear. I strongly recommend not to disregard the doctor's instructions!
Secondly, my native language ist German – so some phrases are maybe a bit strange to you English natives ;) Nevertheless, I hope you get the point of any sentence here.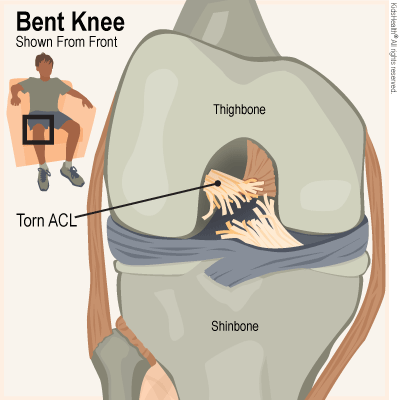 Personal Data

172cm / 70kg – 27 years
I live directly and indirectly (blog, journalistic work, author, lectures, …) from mountain sports. My home is located in Tyrol/Austria in the Alps at an altitude of 1,530m in a village of 150 people. I also work in the inn and in my family's mountain farming.
First and foremost, I go skitouring excessively. In summer paragliding, mountain running and mountaineering.
Sports activity: an average of 250,000 vertical meters ascent per year. For those who have nothing to do with mountains: that's around 140 skitours per season and 50 mountain tours per summer. Depending on the time of year, it ranges from ten to 20 hours of exercise per week.
I have never taken part in competitions, I do not do anything to counteract my sporting activity, I do not exercise and just eat what is on the table at home – varied, with a focus on meat.
I have already done a few "ultra tours" in one day as a skitour and mountain run: with up to 85 kilometers and 7000 meters of ascent.
My milestones and key data over time
Splint (orthosis) & crutches
How long with crutches and splint (orthosis) after the cruciate ligament operation? – For me 13 days.
How long after the cruciate ligament surgery was treated with pain relievers? – For me 3 days, then discontinued independently.
Hospitalization
How long in the hospital after the cruciate ligament operation? – 2 days
Pain
After the rupture: None at all, I didn't feel the crack, just heard it. Mild pain a few hours to days after the tear, with inflammation and swelling in the knee.
After the operation: no pain. Only the drilling-tunnels in the bones pounded for two weeks when the blood pressure rose in them. The removal point of the tendon "pulls" for a few weeks with vigorous movement. When going downhill after 8 weeks, I keep getting a slight stitch behind the patella. In my world, it's not pain, because it feels different. I only had real pain when the physiotherapist was "rough".
Instabilities / giving way
I did not have any instability either immediately after the cruciate ligament tear or in the three months between the tear and the operation.
On the other hand, when I hyperextended my leg when I sagged into holes in the ground or snow holes, I felt a significantly expanded hyperextension.
Swelling
After the crack: maximum swelling one day after the crack: really, really fat, round knee. Then continuous fading. Completely normal again after about three weeks.
After cruciate ligament surgery: swelling much less than after the tear. Maximum in the evening after the operation. Then again continuous fading. Normally sized knee again after four weeks.
Extension & Flexion
How long until full extension after the cruciate ligament operation? – 3 weeks. 6 weeks to complete hyperextension.
How long until full flexion after cruciate ligament surgery? – 6 months.
Drive
Driving somehow possible 9 days after the cruciate ligament operation. It makes sense to do this 13 days after the operation.
Cycle
Enough flexion to ride my bike again: 3 weeks after the operation with me.
Sick notification & ability to work
How long did the doctor write sick leave after the cruciate ligament operation? – 6 weeks with me.
Ability to work after the cruciate ligament operation: After 1 week it is possible to work continuously for hours on the PC with appropriate leg positioning. Most, not too hard, physical work and carrying up to 20kg after 3 weeks doable. For heavy, physical work fully operational after 8 weeks.
Sleeping positions
Sleeping on your side for hours without a pillow between your legs: 6 weeks after the cruciate ligament operation.
When sleeping on the back, the foot remains unconsciously in full extension without bending "by itself": After 7 weeks.
More detailed information about the accident, the decision to have a cruciate ligament surgery:
The accident
In March 2020 I just fell over because of something stupid, I heard a crack in my right knee. I immediately think of a torn ligament, but I don't feel any pain. I get up and test my foot for full load in all directions. No problem, no pinching, no pain, no instabilities. But the sound was clear to me, as I've heard many descriptions of ligament tears. At home, it swells massively.
The next day at my trusted doc: Lachmann positive, "Lukas, you need a new cruciate ligament." The next day, MRI and specialist. The classic procedure …
The recommendations for / against cruciate ligament surgery
My extremely sporty and fit family doctor immediately recommends cruciate ligament surgery. The first specialist thinks that if I feel stable, he would wait and rather not operate. But I don't think he has noticed how much I really exercise.
In the meantime, Corona has become a major problem in the world and operations that are not absolutely necessary may / should be postponed in Austria. For now I'll check off the ski touring season in my head and see how it develops.
The knee right after the rupture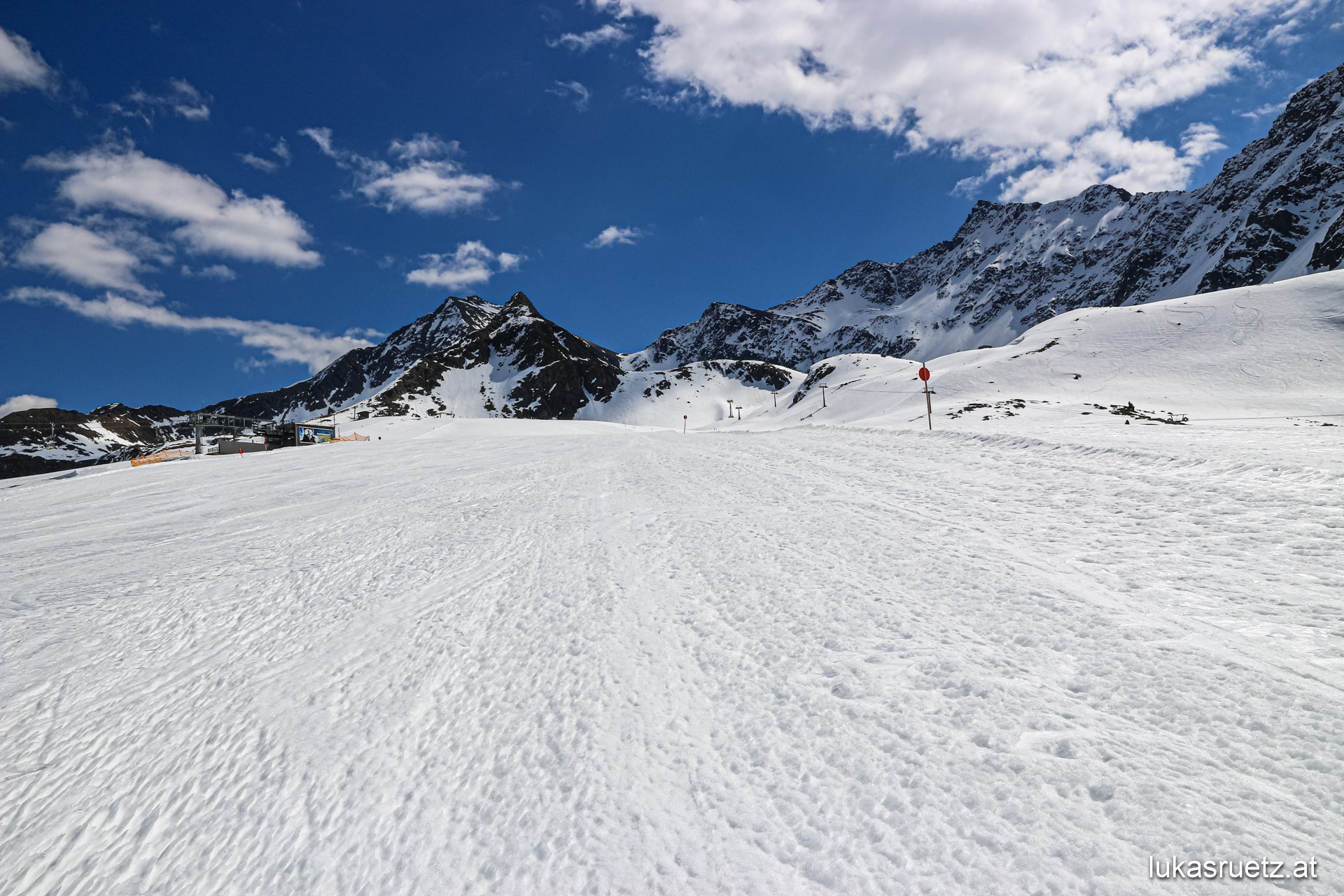 I have almost no pain, only the swelling makes my knee hardly move. Everything is stiff and thick. I'm lying in bed and I'm going to be Dr. Google expert on cruciate ligament tears.
Is that how you feel right now? Then get well!
But after a few days it gets better quickly. The swelling subsides. I have never used the splint from my family doctor. I feel completely stable. But the muscle wasting on the quadriceps is immense.
After a few days I can limp back to my everyday life.
Now I have a little pain: the left (healthy) knee and the right hip. The limping gait and the uneven load take their toll.
On day 12 after the rupture, I am back on skis, still restricted movement and overly cautious but hey – on a skitour again :) I would never have thought that after such a short time!
The decision to have a cruciate ligament operation
In the meantime I have spoken to many friends from amateur and competitive sports about it. Almost all those affected (and that's a hell of a lot as I figured out!) recommend surgery from their own experience. The current studies also show that you are much more likely to develop osteoarthritis in the knee over time if you continue to live without a cruciate ligament.
Many recommend Dr. Fink (one of the most famous cruciate ligament specialists worldwide, a celebrity in the cruciate ligament scene who has tons of world-famous professional athletes under the knife) or Dr. Hoser in their office in Innsbruck.
I get a second opinion from Dr. Fink. He thinks there is a chance to live without any problems without an anterior cruciate ligament and to do sports – and not have any problems with the knee in old age. The majority of those who cannot be operated on – especially those with my exercise schedule – have a damaged external meniscus after a few years.
If I want to have an operation, I can contact him at any time. If not, I probably won't have any problems with my muscles without an anterior cruciate ligament for at least a few years. Maybe for my whole life.
Since I have now read some studies myself, it is now clear to me at the latest that I am having a cruciate ligament surgery. I want to keep the likelihood of needing an artificial knee joint as low as possible many years from now.
The risk of surgery is of course there. But otherwise I often take much higher risks in my life and often drive my car very fast. The most common infection seems to be in the knee as well as an extension deficit caused by a cyclops / arthrofibrosis. Or a human mistake. And – unlikely – that one could die with such a routine procedure during anesthesia. Deciding against an operation is not worth thinking about for me. Because I know one thing for sure: I don't feel like having osteoarthritis in my knee. I know too many examples of this.
But of course there are many who think differently here and of course that doesn't help anyone where something in surgery went wrong.
The three months between the ligament rupture and the surgery
Photos before the operation in May and June without anterior cruciate ligament in the right knee
Four weeks after the rupture I am 99% back again. Only the extension is not perfect and my fitness has decreased. I believe that the extension is primarily hindered by the cruciate ligament stub. I don't know if that's really the case.
The quadriceps have shrunk a lot and the right leg is significantly weaker than the healthy one. I am completely stable, never have a giving way, I can ski, run, mountaineering at full throttle. Only when I slump through a hard layer of snow while bootpacking in the snow I do clearly feel a so far unknown and uncomfortable hyperextension. There is simply too much way that would otherwise be limited by the cruciate ligament.
Since winter counts for me and I ski long into the summer months in the high Alps, I finish the ski touring season. On June 25th I finally head out for the last turns.
Preparations for cruciate ligament surgery
I have set the surgery date for 07/07/2020. I'm doing very well now. The quadriceps are back to 95% left side volume – three months after the tear. The only thing I can't get into is hyperextension from my own. From the beginning of June I go to the physiotherapist regularly to get the perfect starting point for the operation.
Food supplements
I deal with nutritional supplements for the joints. Actually, I don't think much of such things and prefer to eat fruit and vegetables because they just taste great to me and the money is too good for me. But an extremely athletic friend with a long history of suffering recommended something with chondroitin and glucosamine.
I scour the internet and various studies. Conclusion: It probably doesn't help at all because the ingredients are already metabolized to breakdown products before they reach the joint. Several placebo-controlled studies could not provide any evidence. That is why the manufacturers of the products have been banned from various formulations and images on the packaging, all of which they skilfully avoid: Either by adding vitamins or trace elements that are proven to be involved in joint development, but for which the product is not actually used. Or with other formulations that indirectly convey exactly the same messages. [Situation shows European law]
I think about it for a while and still decide to do it. Quite simply according to the motto: If it doesn't help, it won't hurt. And because mankind has diametrically changed its view and doctrine of things a thousand times. Or certain investigation methods had not yet been invented that could later provide evidence. And because then at least the trace elements that are needed above all to build up cartilage and ligaments are definitely available in sufficient concentration.
I opt for a high-quality "branded" product and take it once a day a few weeks before the operation. Why a high quality and expensive version of the joint capsules? Because it is produced in Austria and I trust that the company adheres to the standards that it advertises in terms of marketing.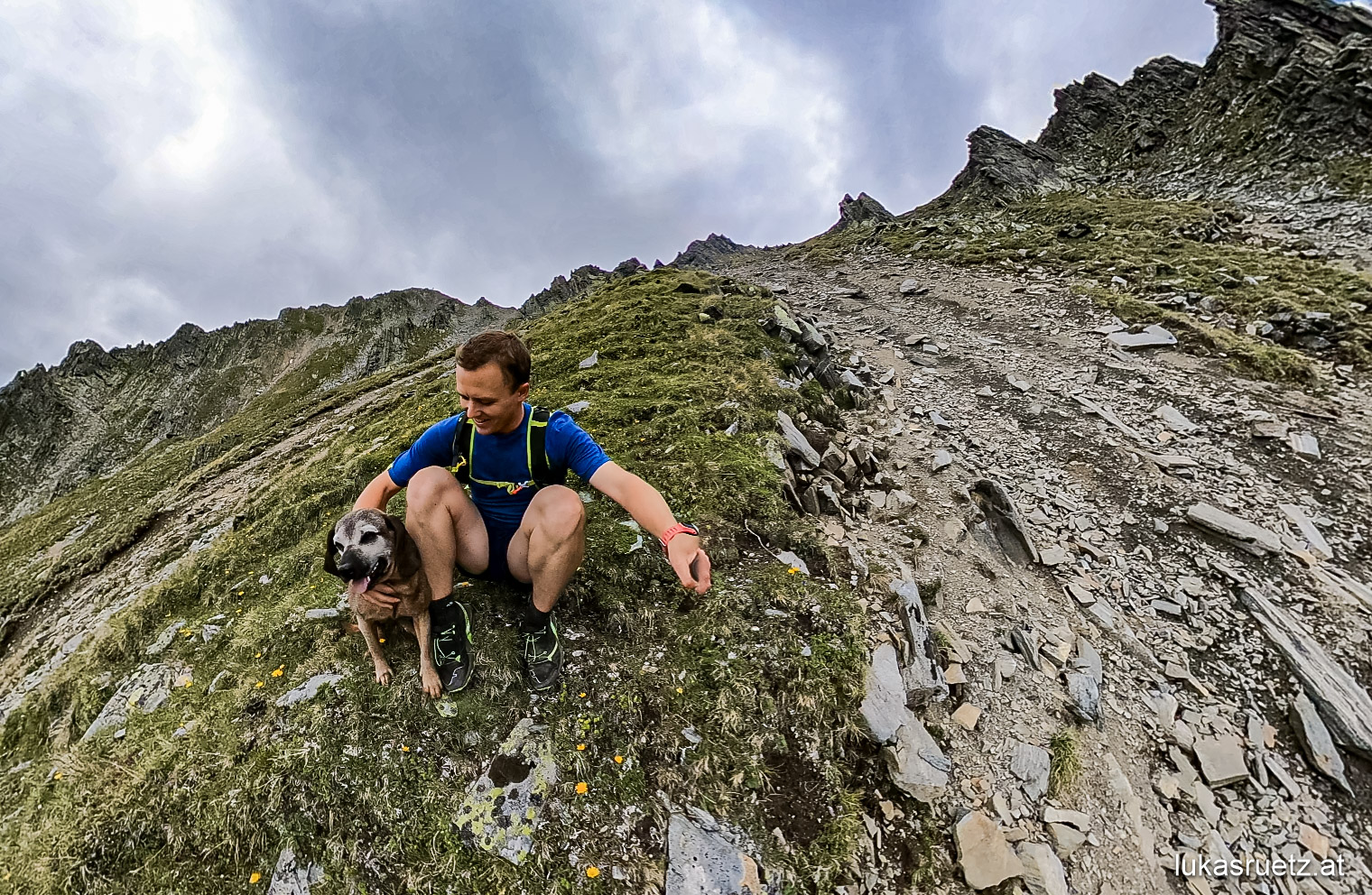 Which tendon?
The internet is now full of tips on where to take the tendon for the plastic.
Dr. Fink and my opinion after studying the literature clearly advised the quadriceps tendon in my case. This is taken from the top of the kneecap over a length of approx. 10 cm. Because this extraction point causes the fewest problems on average and, especially with ambitious skiers, it is better to weaken the extensor muscles than the hamstrings (hamstrings, semitendinosus / gracilis).
The cruciate ligament surgery
I don't feel like going through a second time for a couple of weeks with little to no mobility.
But there's no alternative. I don't want to leave it unoperated and postponing it is no solution.
On July 7th I have to be in the clinic in the morning. The day before, I give myself the full grenade again: I run 1300 meters in altitude at full speed from the summit to the home to give the muscles a massive stimulus so that the strong breakdown only occurs a few days after the operation. At home my thighs are bluer than blue.
The operation goes smoothly. I take my first anesthetic really well. It's just like falling asleep and waking up again. With one subtle difference: after a good night's sleep, you wake up in the morning and know that you've been asleep in the past and can usually estimate how long you've slept without looking at the clock. After a general anesthetic, you wake up and it feels like the time of anesthesia just didn't exist in life. How long I was anesthetized I couldn't have guessed with the best will in the world: I don't know if ten minutes or ten years.
I'm not sick, I don't have a scratchy throat and can immediately go to the bathroom myself with the crutches. Only two days later I had trouble concentrating: I found it very difficult to read an article in the daily newspaper.
The two days under surveillance in the clinic pass quickly. Only the first phase with super stable weather this summer lets me look longingly out of the window at the mountains around Innsbruck. How long will it be before I get back up?
I do not have any pain. The flexion is immediately at 90 °, the extension is free. The day after the operation, I walk for hours with crutches and splints in the hallway of the ward.
Rehabilitation – the first time at home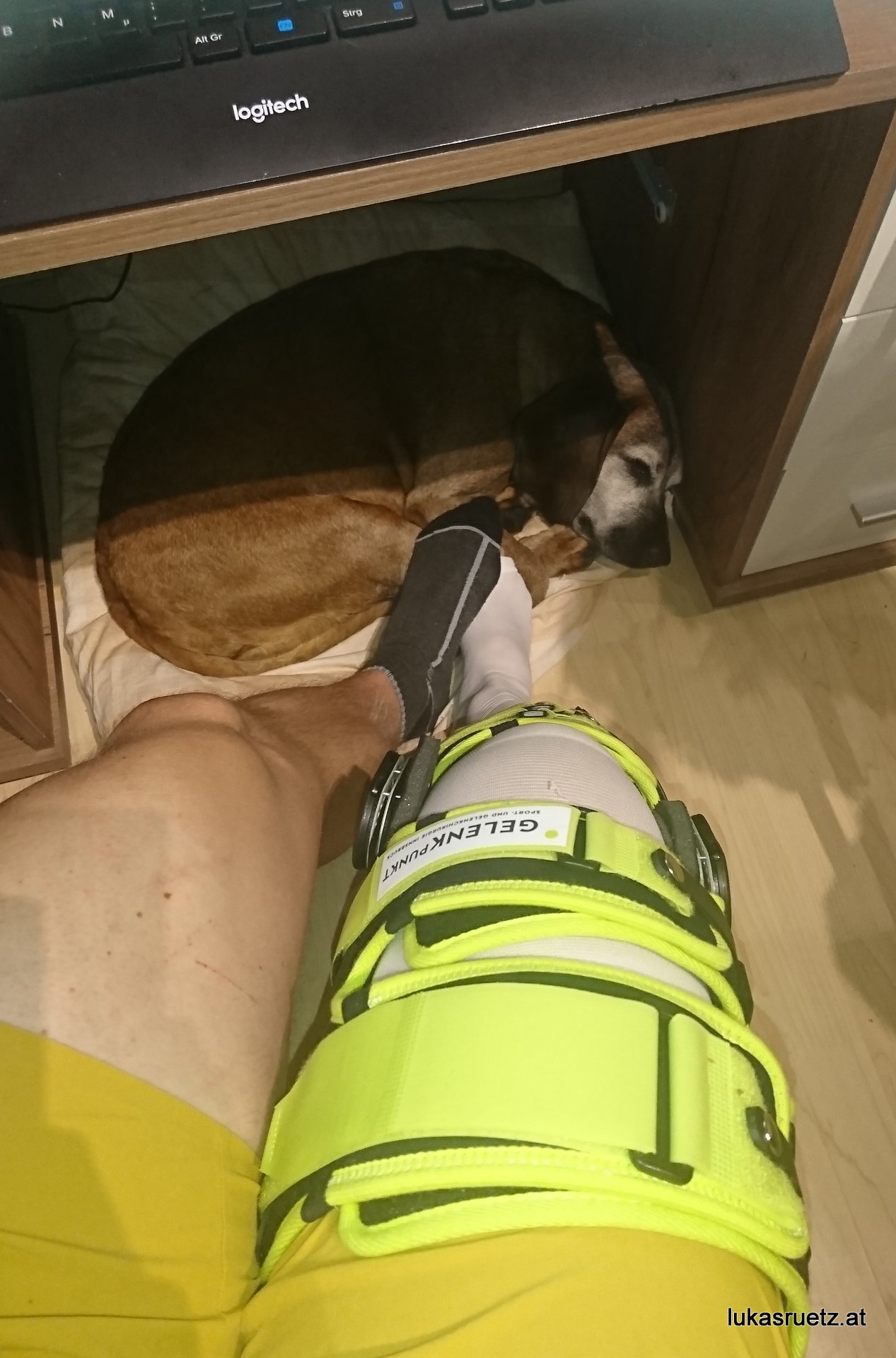 At home I leave the splint on, reluctantly but obediently. I don't want to risk tearing my new ACL. But I probably go for a walk with the crutches too much every day – even if it's only a few hundred meters that I cover. Then it swells a little more.
I read and talk a lot on the phone. In the first two weeks everyone wants to know how I'm doing – really annoying. It's just a routine procedure and not an organ transplant. Three weeks later, almost nobody was giving me a call.
The course from the cruciate ligament rupture to full recovery in detail
07/07 Cruciate ligament surgery with quadriceps tendon
Week 1
07/09 Home
07/10 No more pain medication. I'm just not in pain. Only the tunnels throb when I get up and the blood pressure rises.
Week 2
07/14 First physiotherapy. I have to be driven, driving just isn't possible yet.
07/15 – I try a few steps without crutches and without a splint. Officially, I'm supposed to spend two weeks with crutches and splints. But I feel that this is not yet useful. – I can lift my outstretched foot again with difficulty.
July 16th Driving my car again. The insurance would probably get out if something happened. It's more bad than right. Three days later it works fine.
07/18 Last thrombosis injection
07/19 – The knee doesn't cause any problems. Only the tendon removal site often pulls, especially when I move around a lot. – For the first time a longer round through the village and forest path with crutches. – The quadriceps feels like that of an untrained, skinny woman again.
07/20 Suture removal and X-ray. Everything fine. Wounds look great. From today I can officially go without crutches and splints. Full load officially reached. I went there myself by car. I can cycle flat as soon as the flexion allows and go uphill as much as I want – as long as it doesn't hurt or swell afterwards.
Week 3
07/21 I overdid it with the exercises yesterday that the physio gave me. Knees slightly swollen and warm. Today therapy too: flexion at 105 °, from 110 ° you can cycle.
07/22 Huge improvement from yesterday to today. 110 ° flexion. Scars look good. Stretching ok. Active hyperextension not yet possible.
07/23 (16 days after surgery): For the first time I climb 400 meters and 2 kilometers. The extraction point pulls. But nothing hurts.
07/25 900 vertical meters ascent, 6 kilometers, 2x up to the lift mountain station, down by gondola. Withdrawal point pulls. Knees problem-free. Coordination could be improved a lot. – In the evening I go back to the stable for the first time: milking, mucking out, feeding. Everything can be done. I'm just slow.
07/26 (Day 19) I ride my bike. But because there is no flat surface at home, it is 300 meters uphill. The knee is swollen and stiff for two days afterwards. My own fault, Physio and Doc said, only in the flat. But I hate exercise bikes.
Week 4
07/28 The physio lifts the skin scars stuck to the sub-tissue. The first time and ultimately the only time in my entire cruciate ligament history that I feel real pain. The therapist is also no longer as gentle as the first few times after the operation. Now he's really accelerating again.
07/29 Walking on a flat surface is slowly looking normal again. Still completely disabled when going downhill.
07/30 – 900 vertical meters ascent / 6km, 2x lift station. Coordination gets better. – The pulling in the extraction point is gone. – Walking uphill is almost like before the operation, only that the right leg is much weaker than the left. I decided that I would only go "lift mountaineering" instead of cycling. I don't like to ride home trainers anyway and taking my bike out into the Inn Valley by car is too stupid for me to get into flat terrain. – Today for the first time real strength training in therapy.
08/01 (3 weeks and 4 days after surgery)  1500 meters of ascent and 9.5km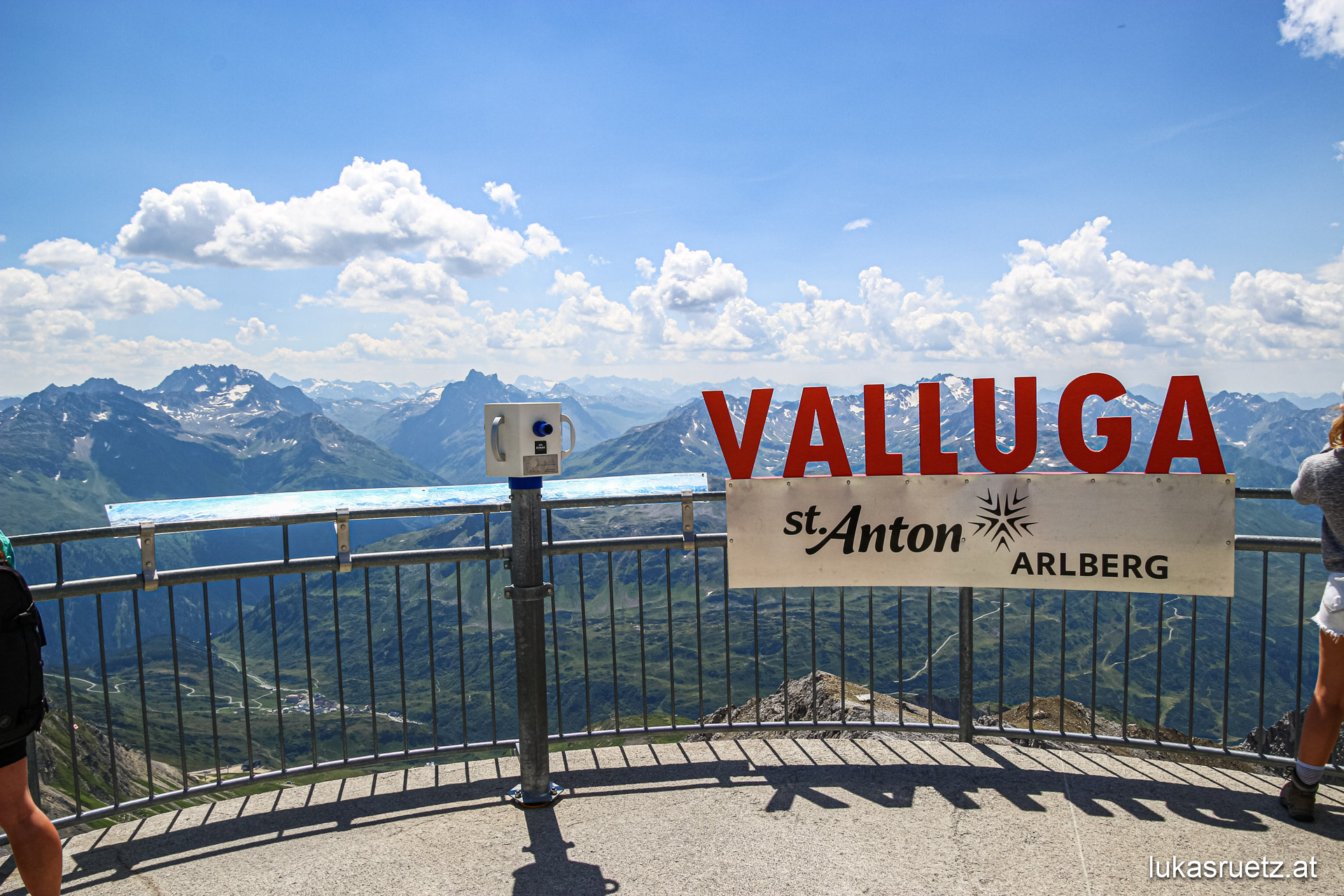 At the top there are places secured with brackets and steel cables where you have to take long strides. Everything problem-free. Only the individual steps that you have to go downhill still look completely disabled.
08/02 Contrary to my expectations, no noticeable influence from yesterday. So again 450 meters of ascent and 3km. Coordination and stride length just keep getting better.
From now on I am active again almost every day. Always on the way up and down with the gondola. That's why I only list special events.
Week 5
08/05 (4 weeks and 1 day) First skitour after surgery. There is half a meter of fresh snow on the glaciers. Due to the cool first half of summer, some of the old snow has remained. That's why Flex and I decide to go on a skitour. We drive to the Stubai Glacier, with the gondola to the Eisgrat. From there we climb up to the Schaufeljoch four times on skis (1160 meters of ascent in total). Since I'm not allowed to ski, I have to take the gondola back down. I can well imagine that the turning movements on the descent are poison for the new ligament. Flex enjoys powder snow while I photograph him from the gondola.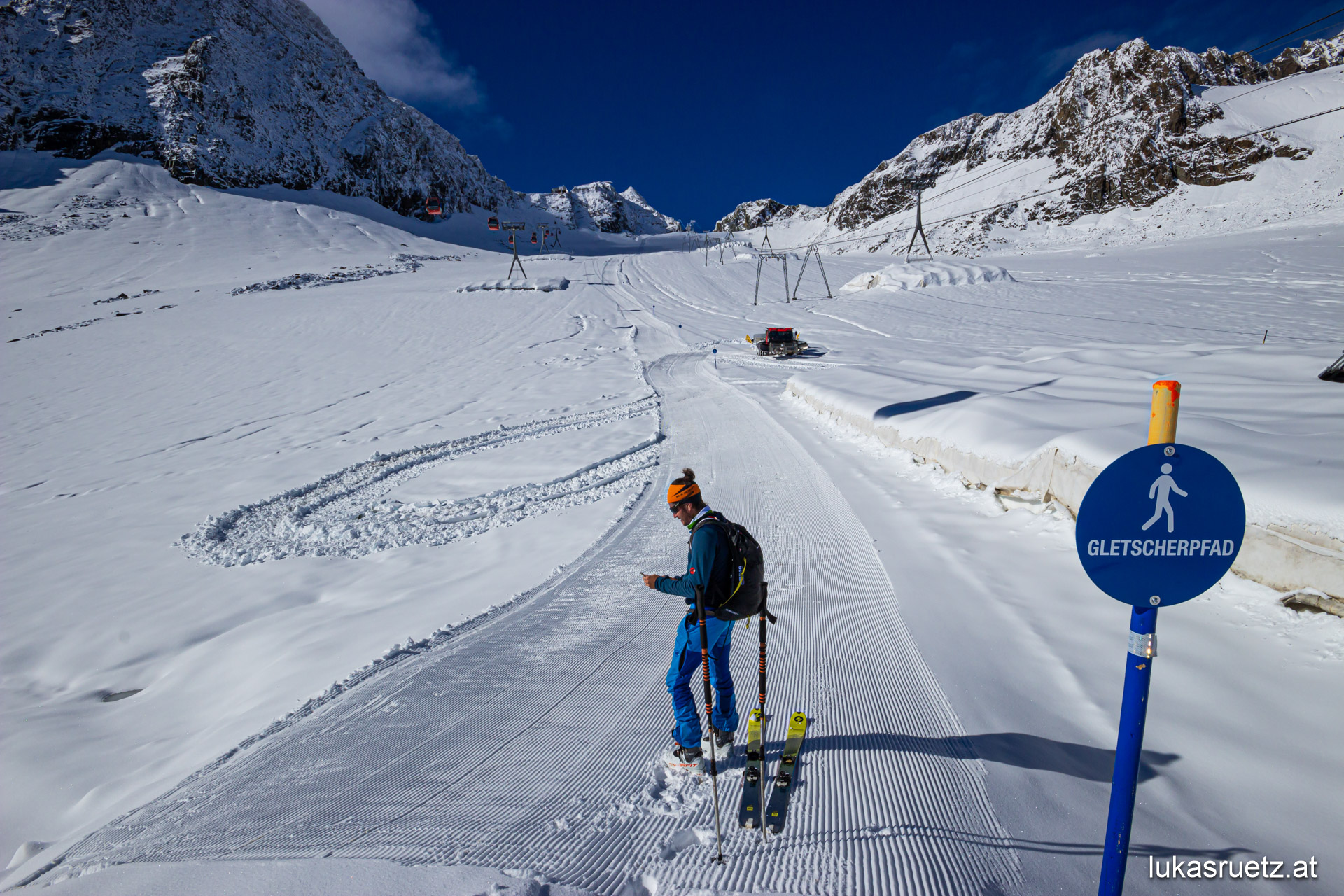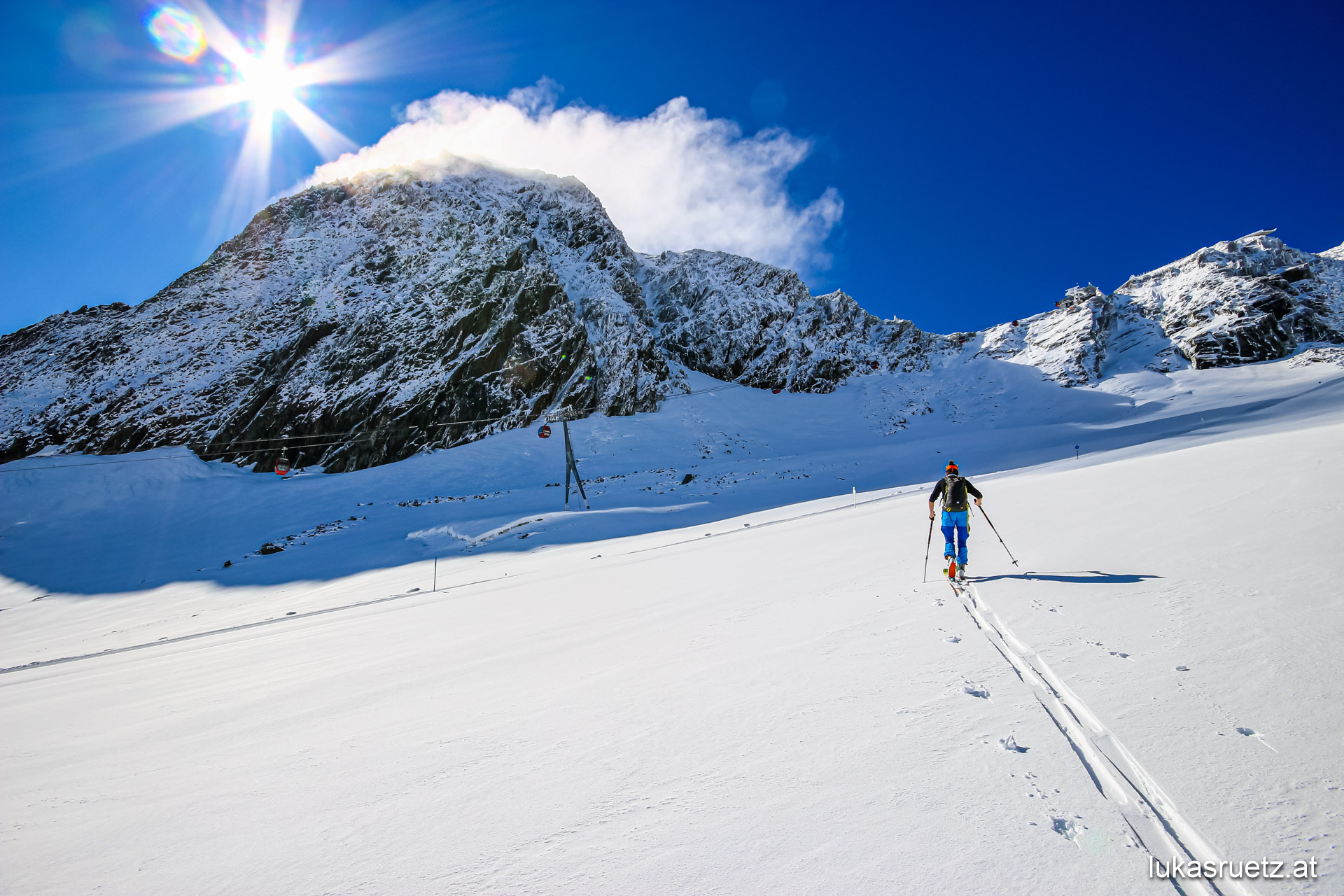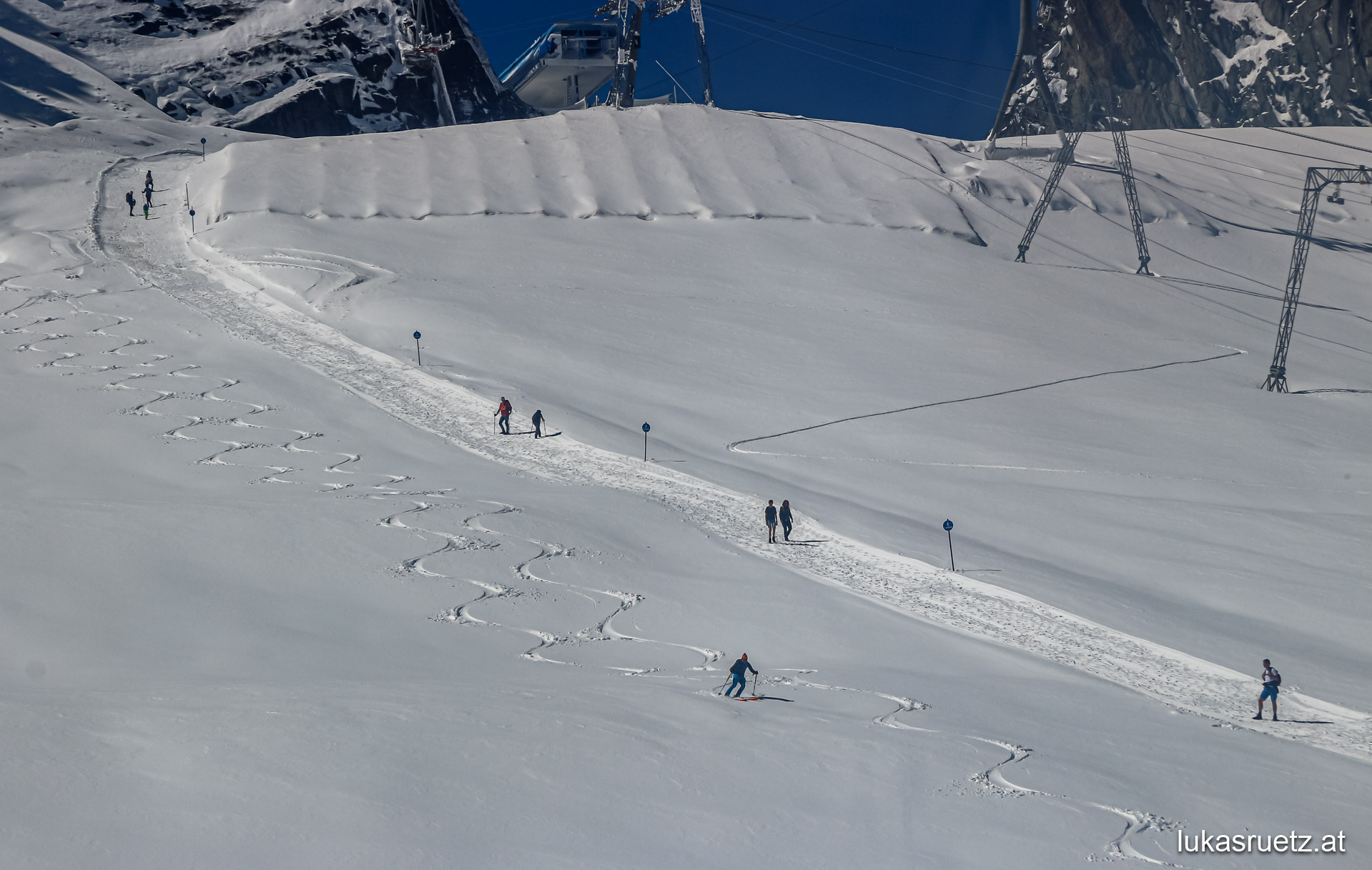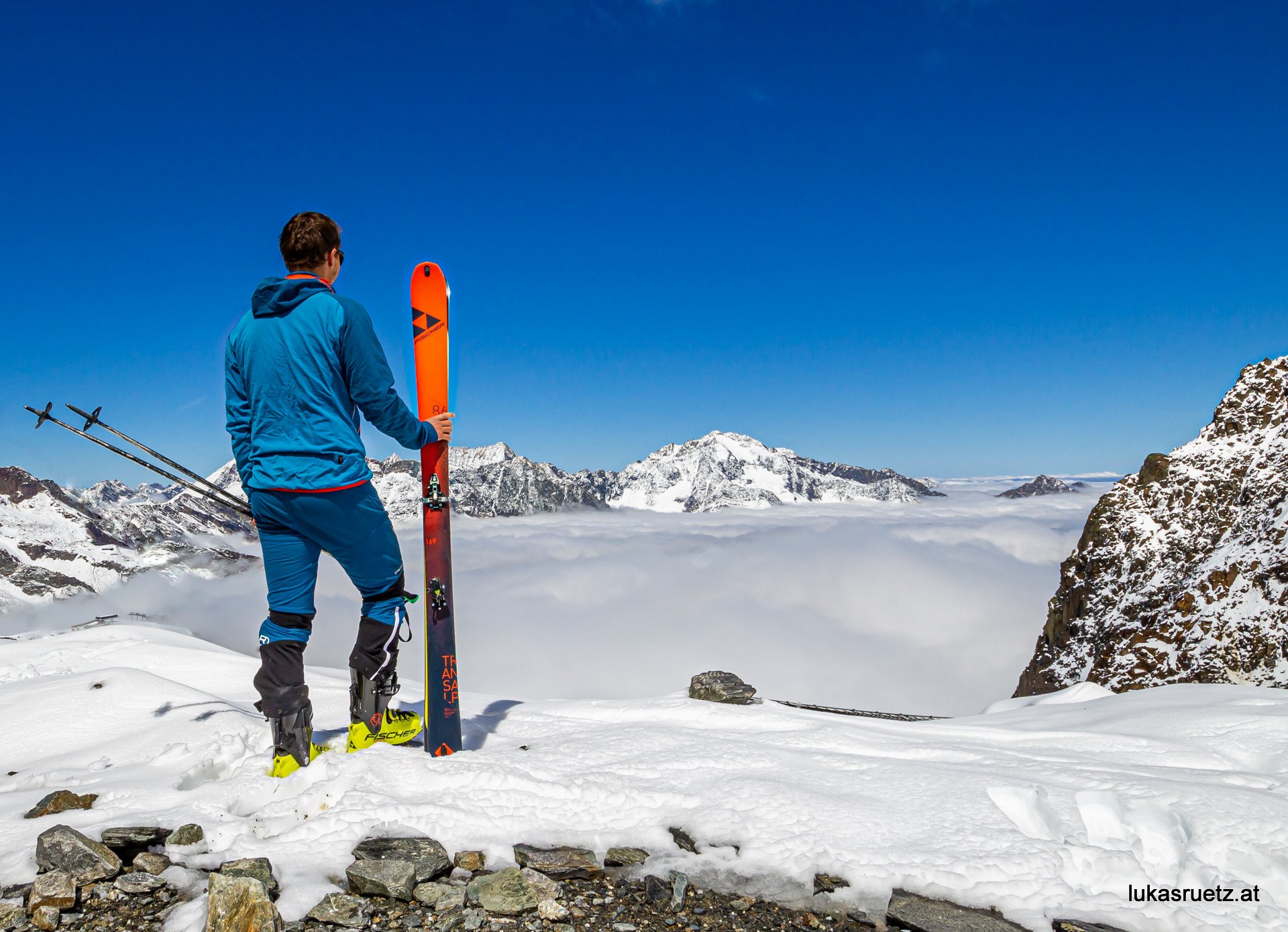 08/06. I don't feel anything from the skitour yesterday. I try briefly whether running works again. It works, but not perfectly.
Week 6
08/12 – The physio says that he has treated many cruciate ligament tears, but he has never observed such rapid muscle build-up in the thigh. – The extension is completely free, the flexion also makes daily progress. Overstretching is now possible on your own up to the level of a healthy leg. – I can now go downhill in a concentrated way that you can no longer see that I am disabled.
08/17 (5 weeks & 6 days after surgery) Second check-up appointment with the doctor: The knee is completely free of effusions and swollen, Lachmann negative. According to Dr. Fink it looks extremely good. I'm allowed to go downhill again! Madness! At first I was told that I shouldn't go downhill for six months. Still important: no skiing, no football, no other sports with a quick change of direction. That can be set up. And if it should snow a lot again, I can go up on skis as long as I go down with the gondola :)
Yeah, finally the movement that trains the thighs eccentrically again!
Week 7
08/18 We are busy with the second cut of the hay harvest. I can easily work with the heavy motor mower on steep slopes.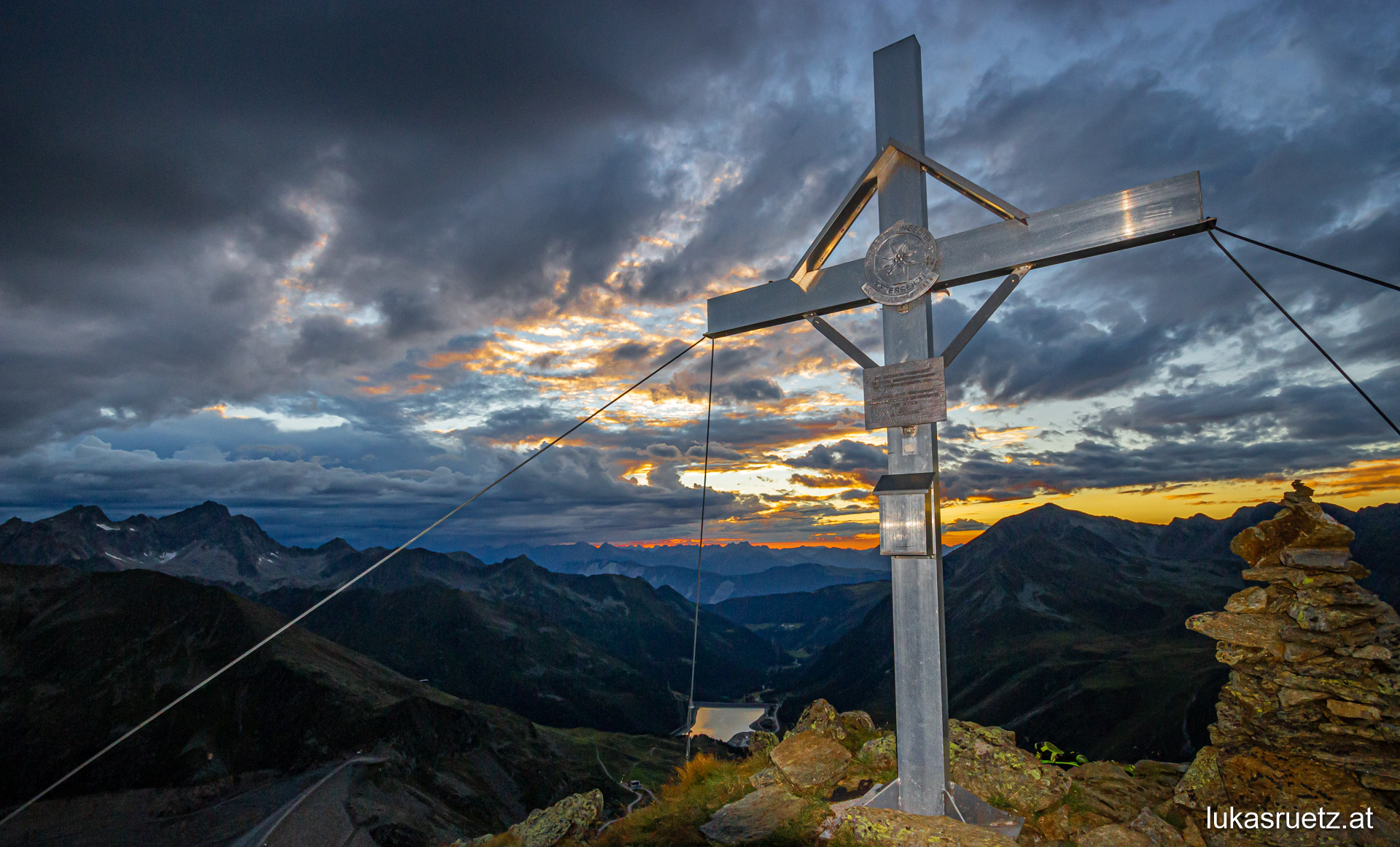 08/20 First mountain tour with a descent of 300 meters. I'm extremely slow and very careful about every single step. You can still see my handicap downhill. If you consider that two weeks ago I came down the stairs more badly than well, I'm very happy with it.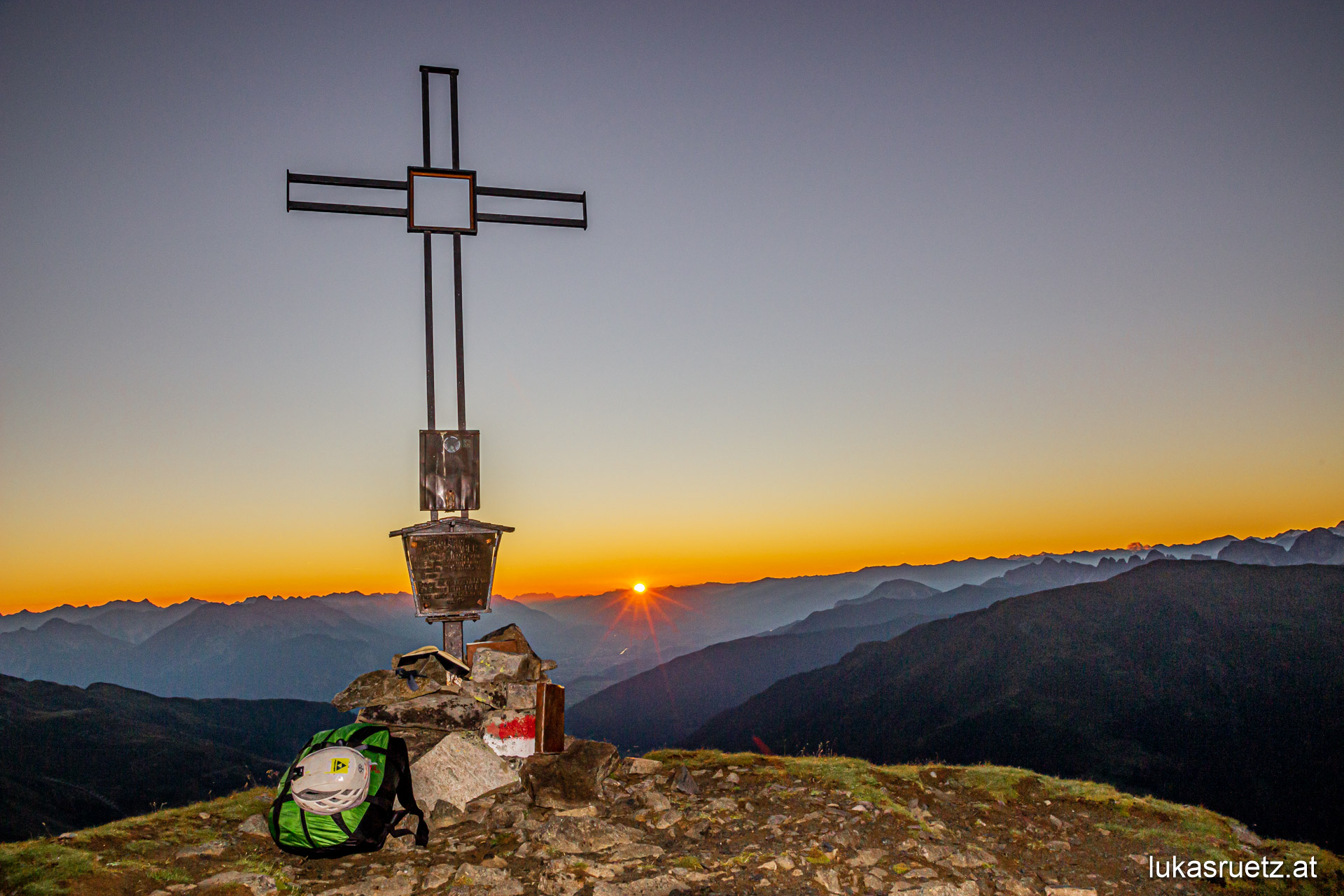 08/21 First paragliding flight
Officially I'm not allowed to fly, but I take the risk of paragliding. I take the splint back with me and put it on for the flight.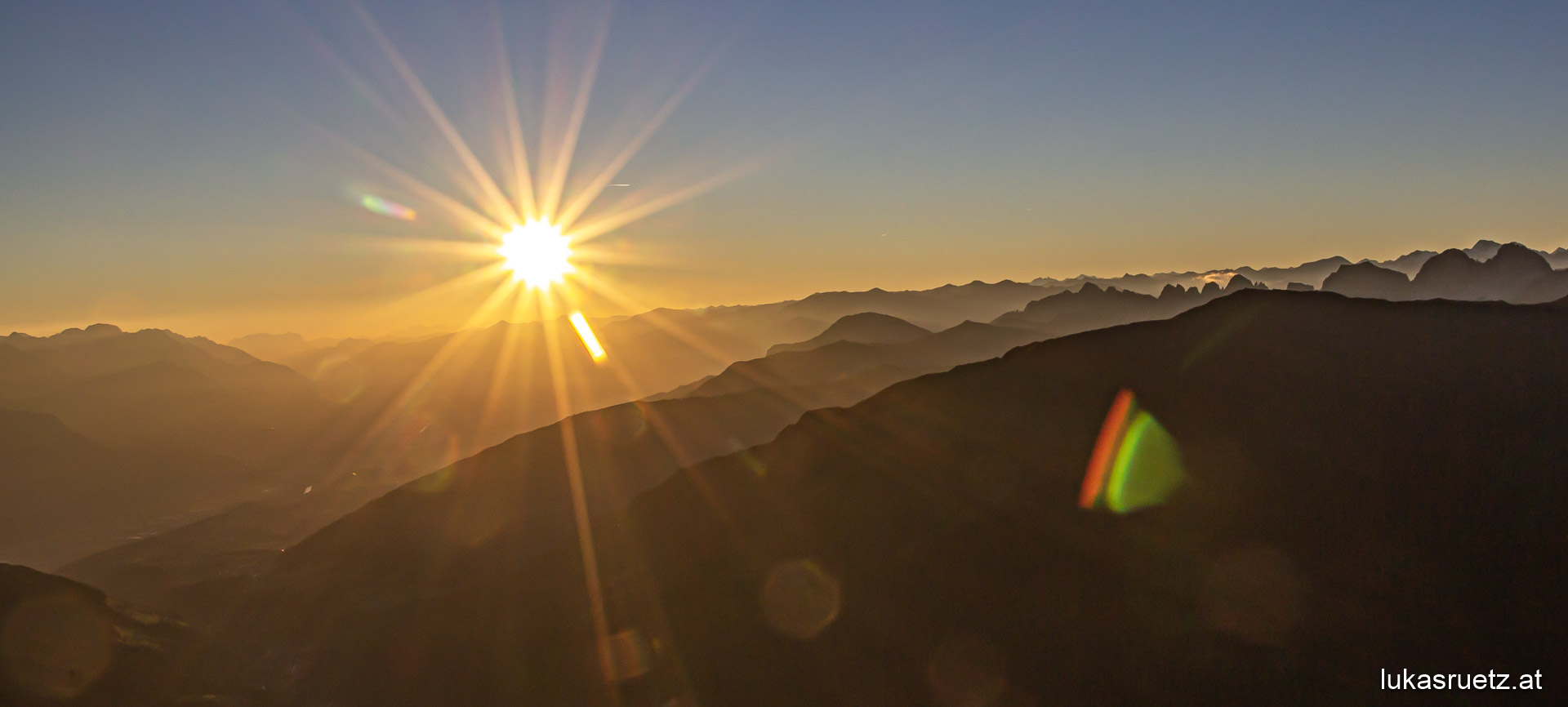 08/22 Mountain tour with a descent of 920 meters on a very steep climb. Can be easily done. But lousy muscle soreness afterwards! I haven't had sore thighs for ten years.
Week 8
08/23 – 09/03 We had a lot of work in agriculture, I just didn't have time for sports or physical exercises. The therapist and I agree: That was also good for the knee …
Week 9
04.09. I can run and jump normally again. The physio says I'm about three weeks ahead of the healing process. Going downhill still looks choppy if I'm not focused on a normal walk. If I consciously try to walk normally downhill, with the strongly angled leg – just before the foot of the healthy leg touches the ground – I always get a stab on the back of the patella. That is quite normal, says the physio. Retropatellar pain because the kneecap is not yet moving as it should. The flexion is almost enough to stretch the quadriceps again. Yay!
Week 10
09/10 In the last few days I have climbed between 1000 and 1600 meters in altitude and went back down again. Once even with a distance of over 20 kilometers. On the flat and when it's only slightly downhill, I now run almost everything again.
If I take big steps downhill, you can still see that things are not going completely smoothly. The healthy knee is offended after every tour with a steep descent. The next day, however, I am always fully recovered.
09/15 I recently carried out the glacier measurements here for the Alpine Club. So again in the high-alpine. The stinging behind the patella when going downhill is gone and autumn is coming to the mountains.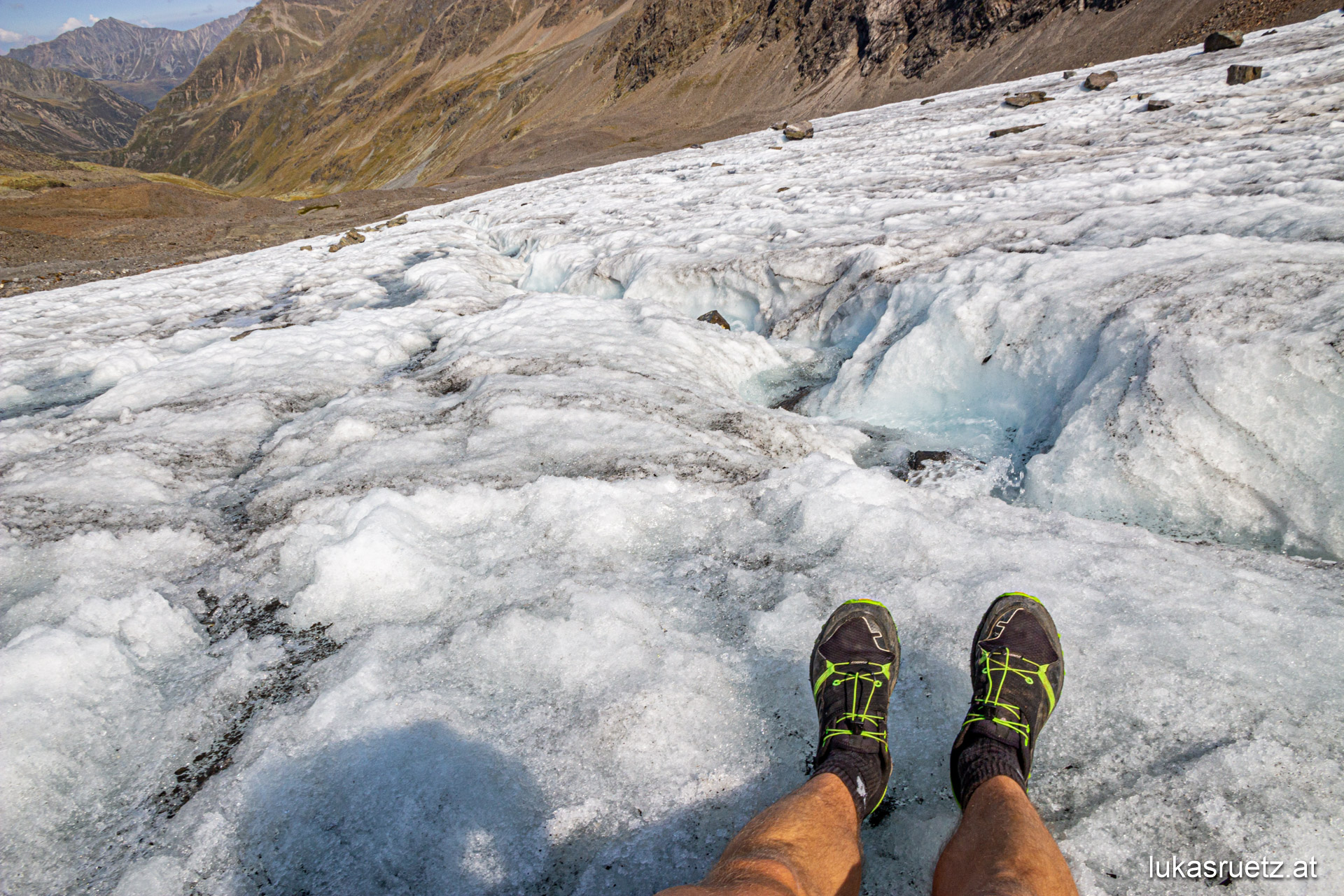 Week 11 + 12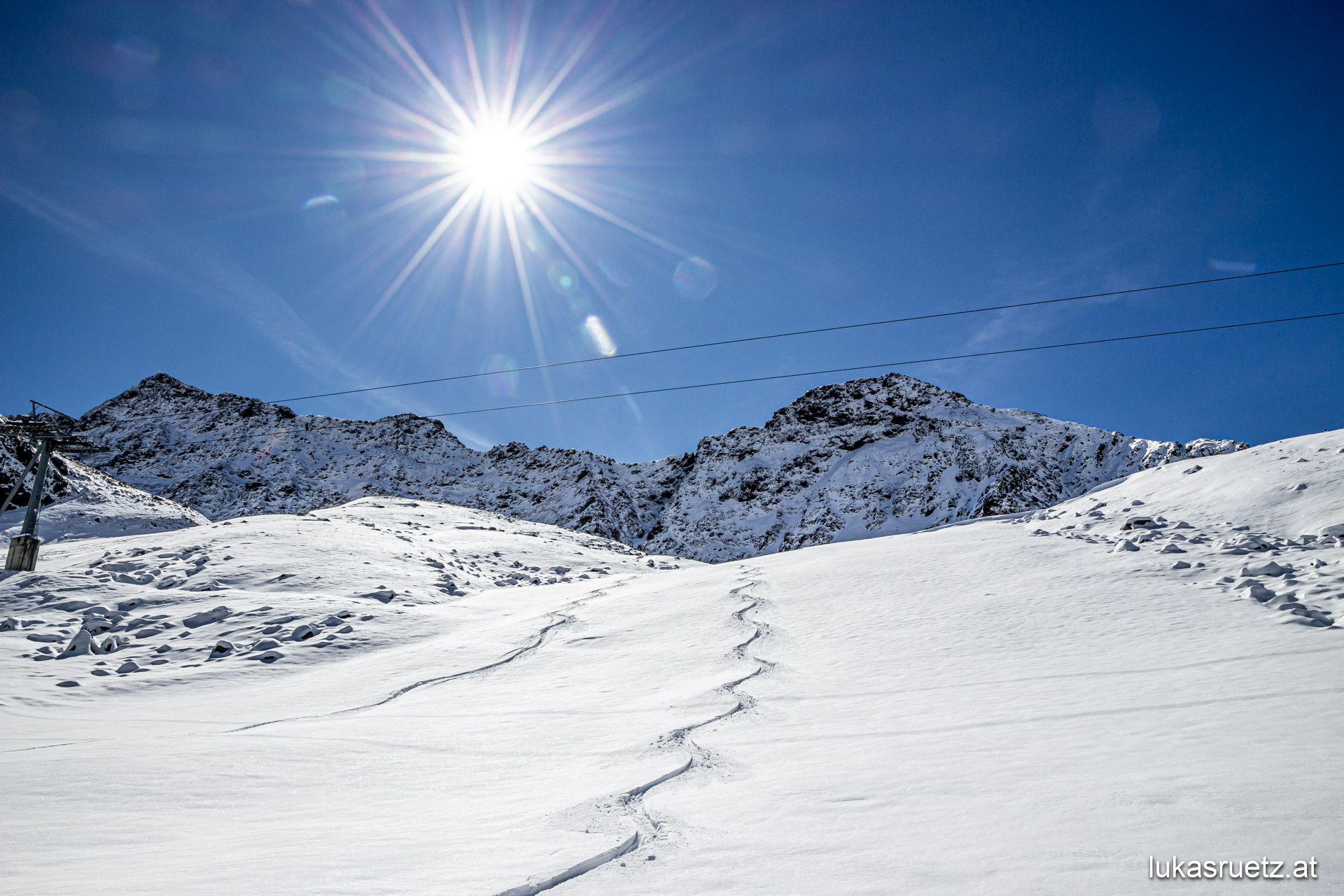 On September 26th there is the strongest September snowfall in the valleys for many years (decades?). The snow even stays at 2000m for five days! Normally it melts away again by the third day at the latest in September.
At 1500m it snowed 35cm. I'll get the splint out again and go on a ski tour with a ski-descent. Actually, I should be given a slap in the face – precisely at the time when the new cruciate ligament is possibly at its weakest in its transformation phase, that's just stupid. It was a purely emotional, not a rational decision.
I found a graphic that assumes a tear strength of 500 Newtons during this period. Immediately after the operation it is apparently around 2000N.
Again: I do not recommend something like this to anyone in the first months after cruciate ligament surgery!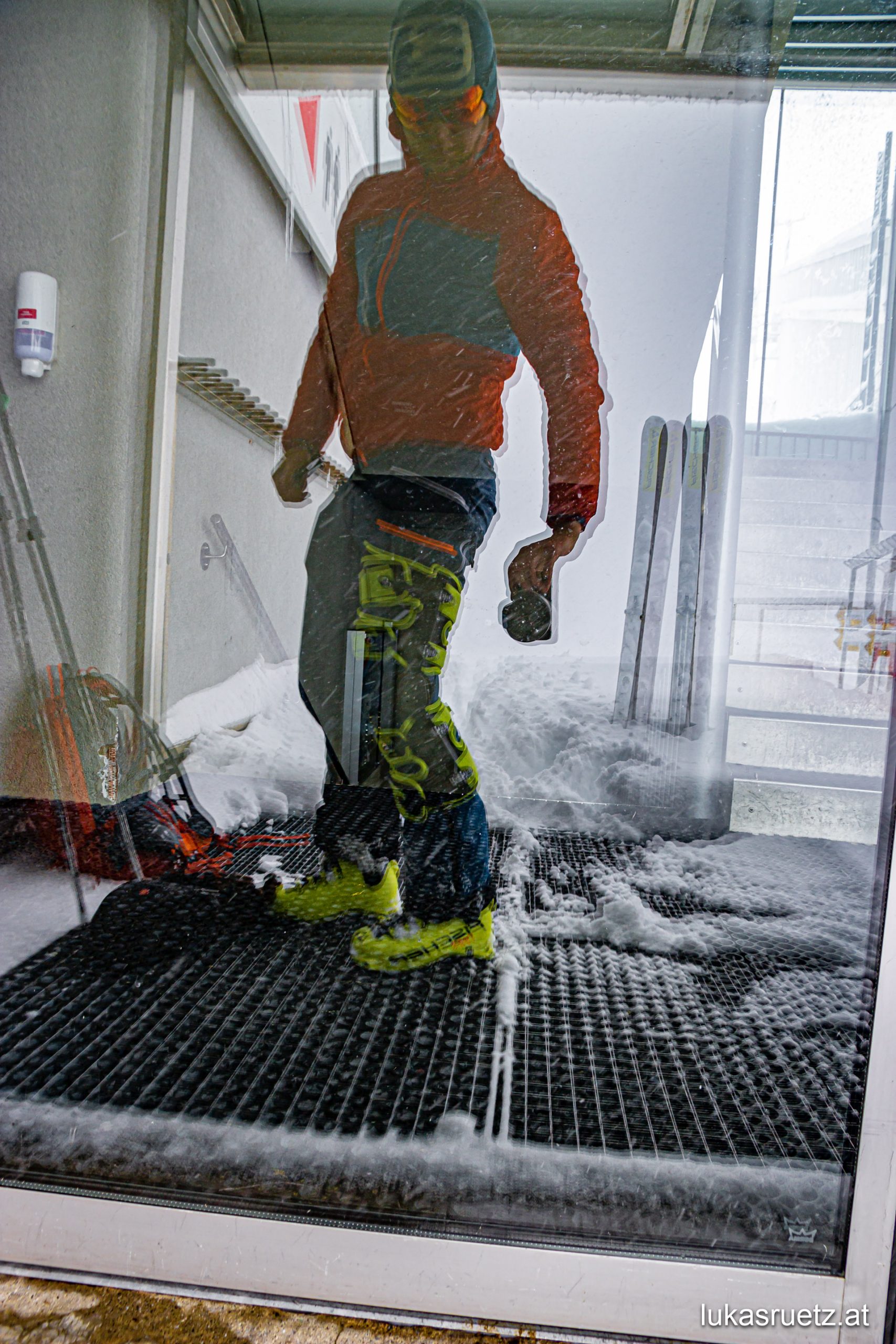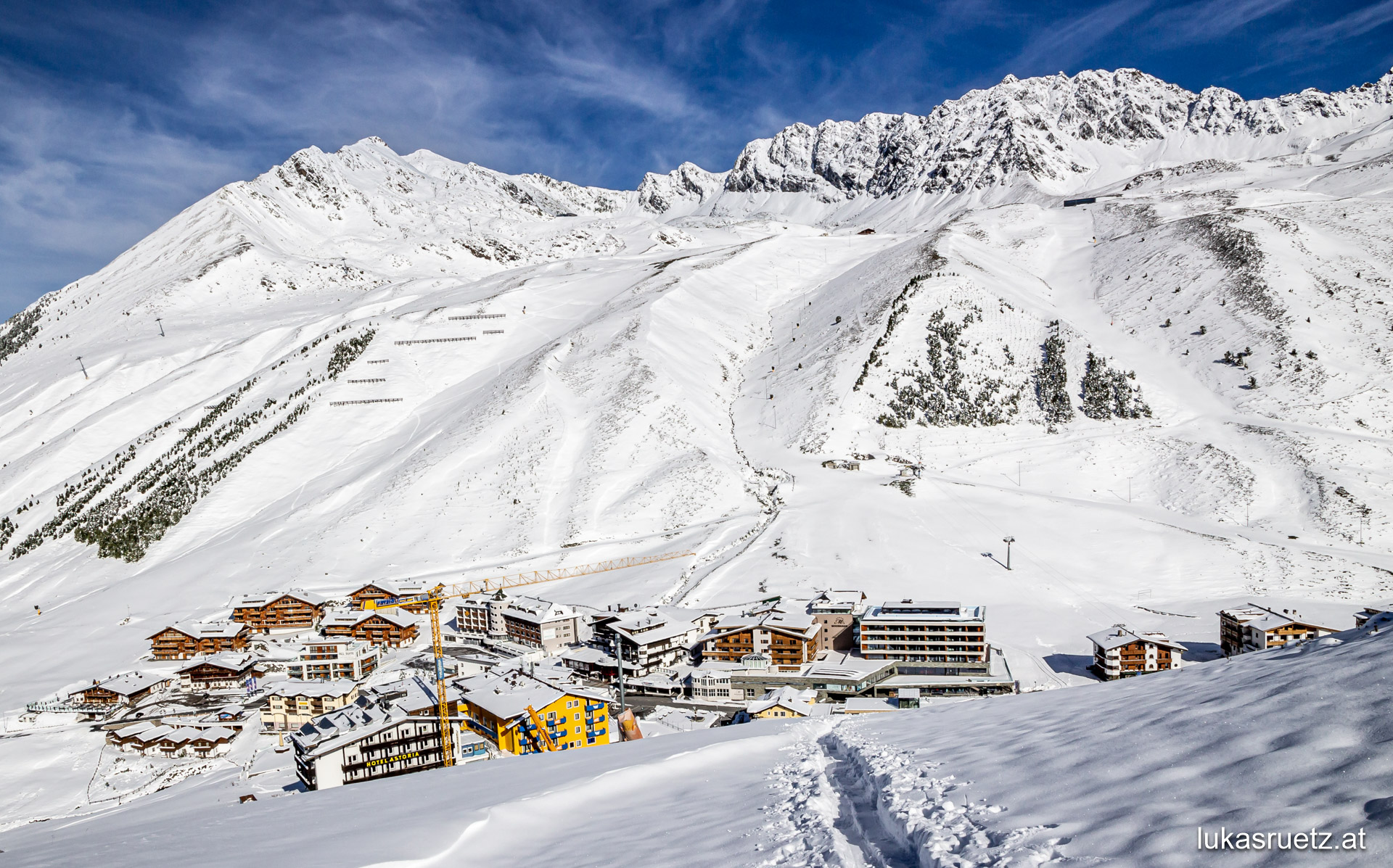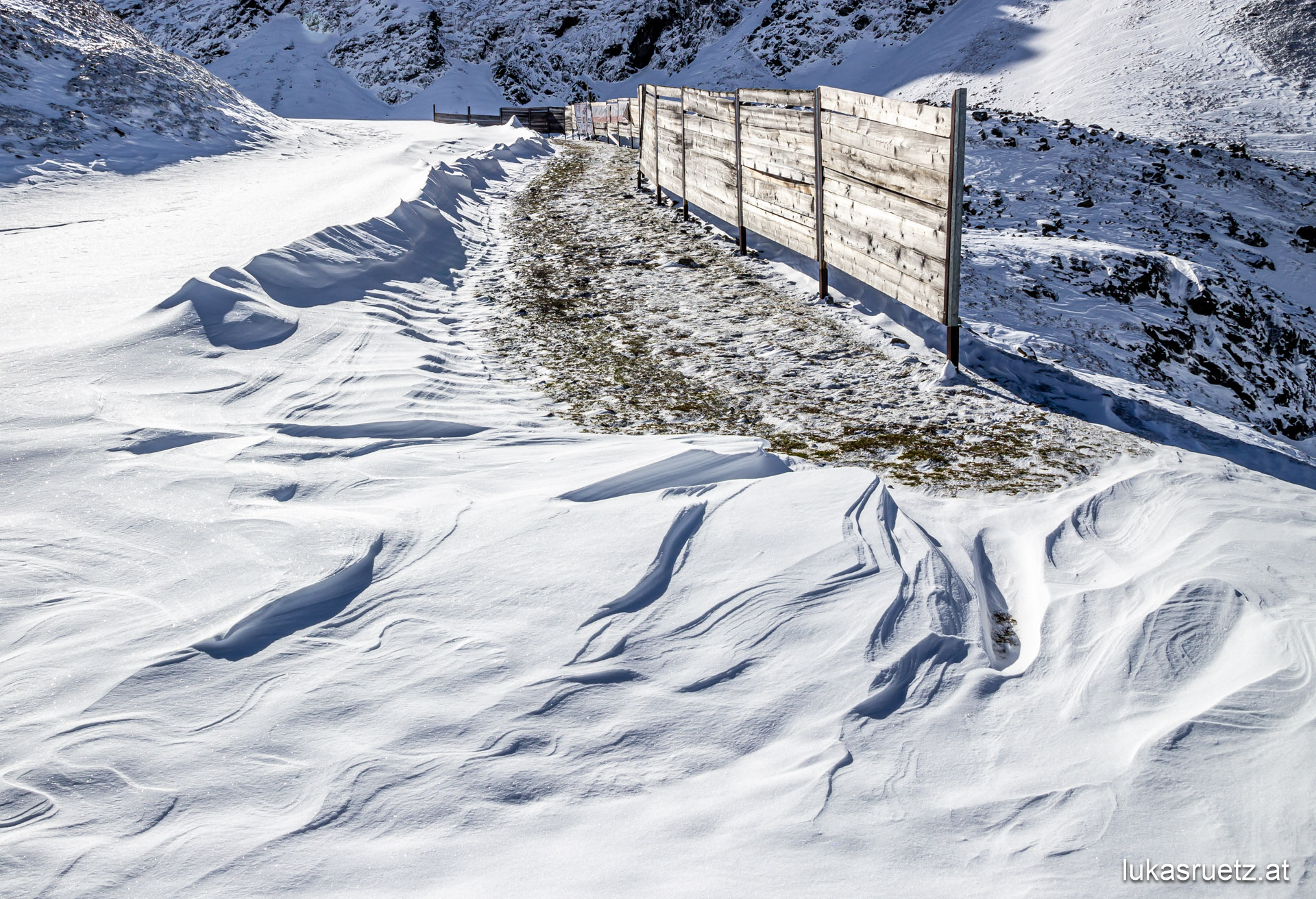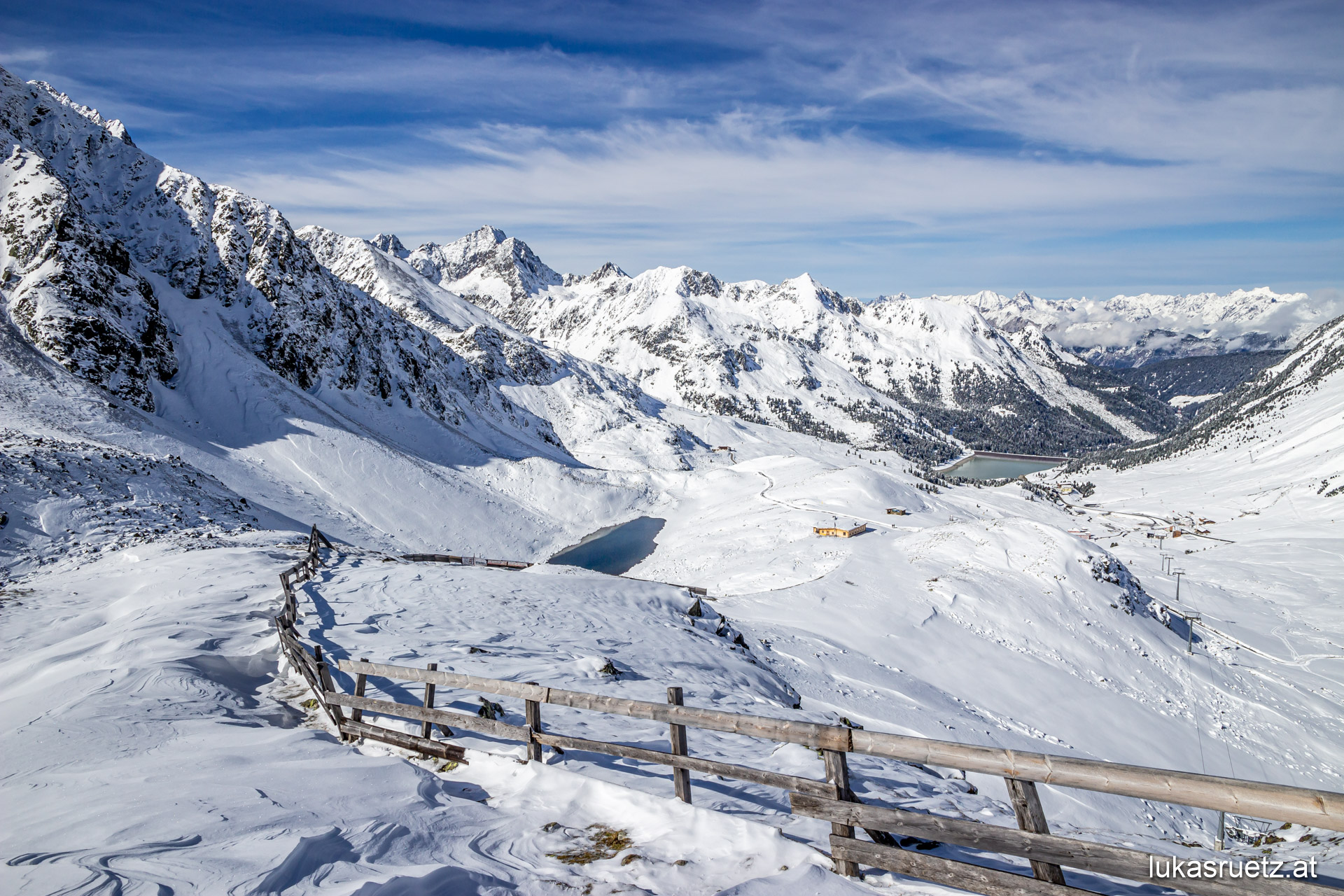 10/05 Surgery is almost exactly three months ago. My third check-up with Dr. Fink. Everything looks perfect. He recommends one-legged strength training. In everyday life I also notice how I unconsciously shifted a lot of movements and the main load onto the healthy leg.
4th month
10/07 Upon request from Dr. Fink, I'm taking part in a one-year study on muscular development and strength development in the thigh after cruciate ligament surgery. To do this, I have the first force measurement of the thigh extensors and flexors. On the healthy leg, I get 256 Nm in extension and 106 Nm in flexion. On the operated leg to 171 Nm in extension and 111 Nm in flexion.
The quadriceps on the operated leg are not only significantly smaller, the force they can exert is also significantly lower compared to the left thigh.
18.10. A video that shows the current state of the thigh muscles. The quadriceps slowly come back.
10/21 Last therapy. In summary: the therapist and I are extremely satisfied with the current status.
October 2020: After the heavy September snowfalls, there was often a lot of fresh snow on the mountains in October. In the glacier ski areas but also in the high-altitude ski areas without glaciers, you can ski very well. I have already been on ski tours up to 1800 meters of ascent several times. Always descent by skis and only when there is good snow. Otherwise I always take the gondola down.
Again: Don't imitate that! My cruciate ligament surgery was only done slightly more than three months ago. Depending on the doctor, you shouldn't ski 6 – 9 months after the operation. That's pure stupidity!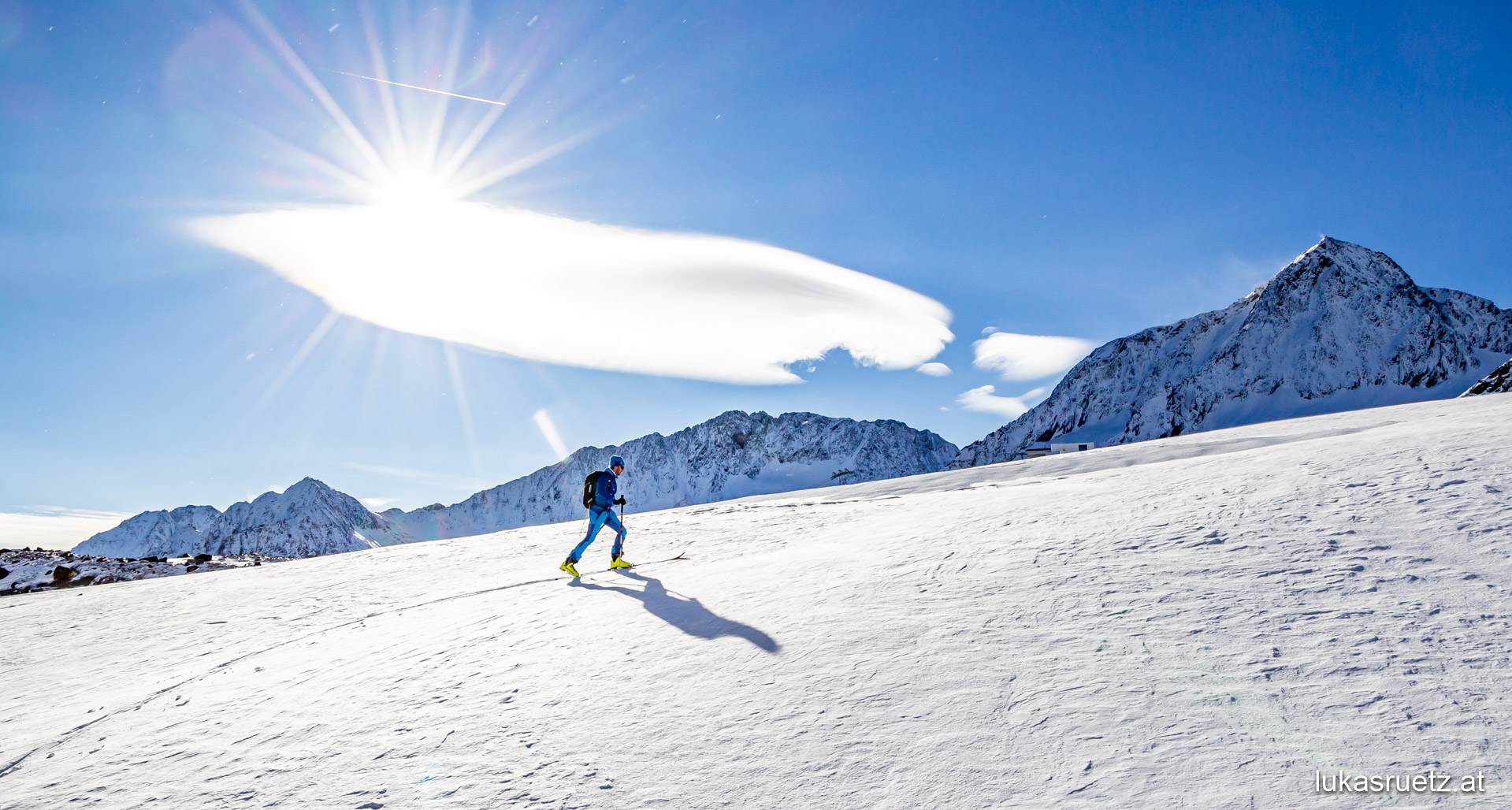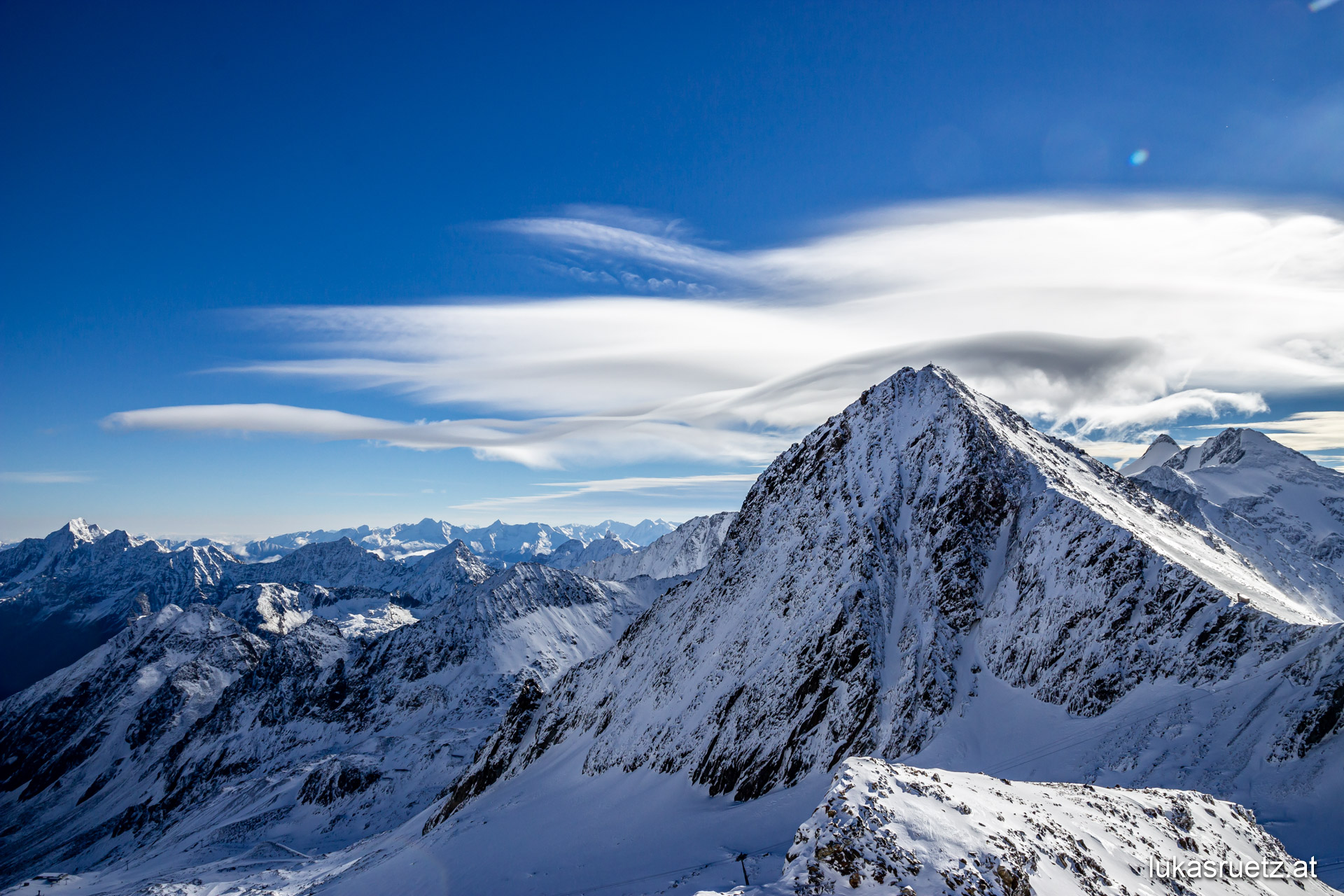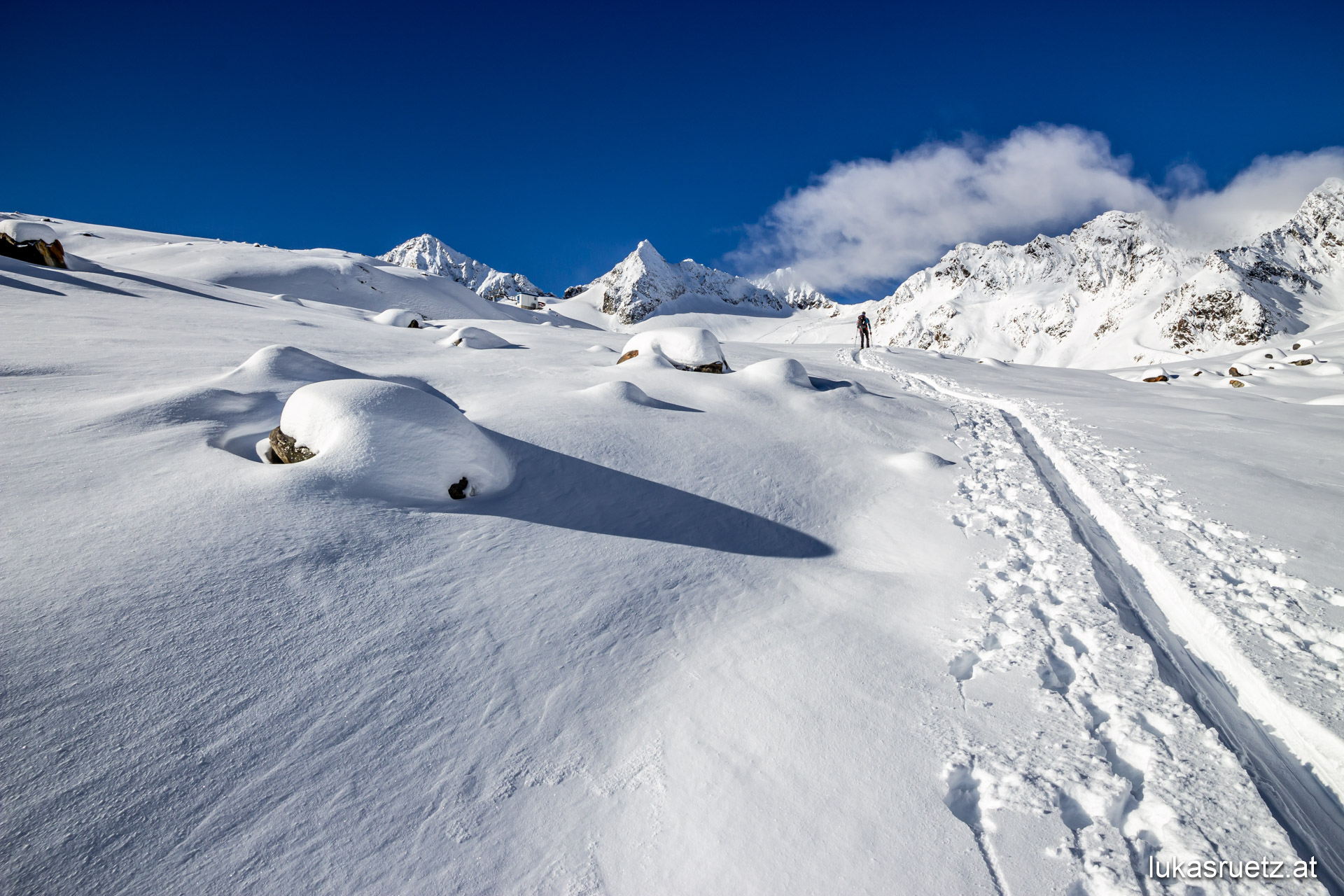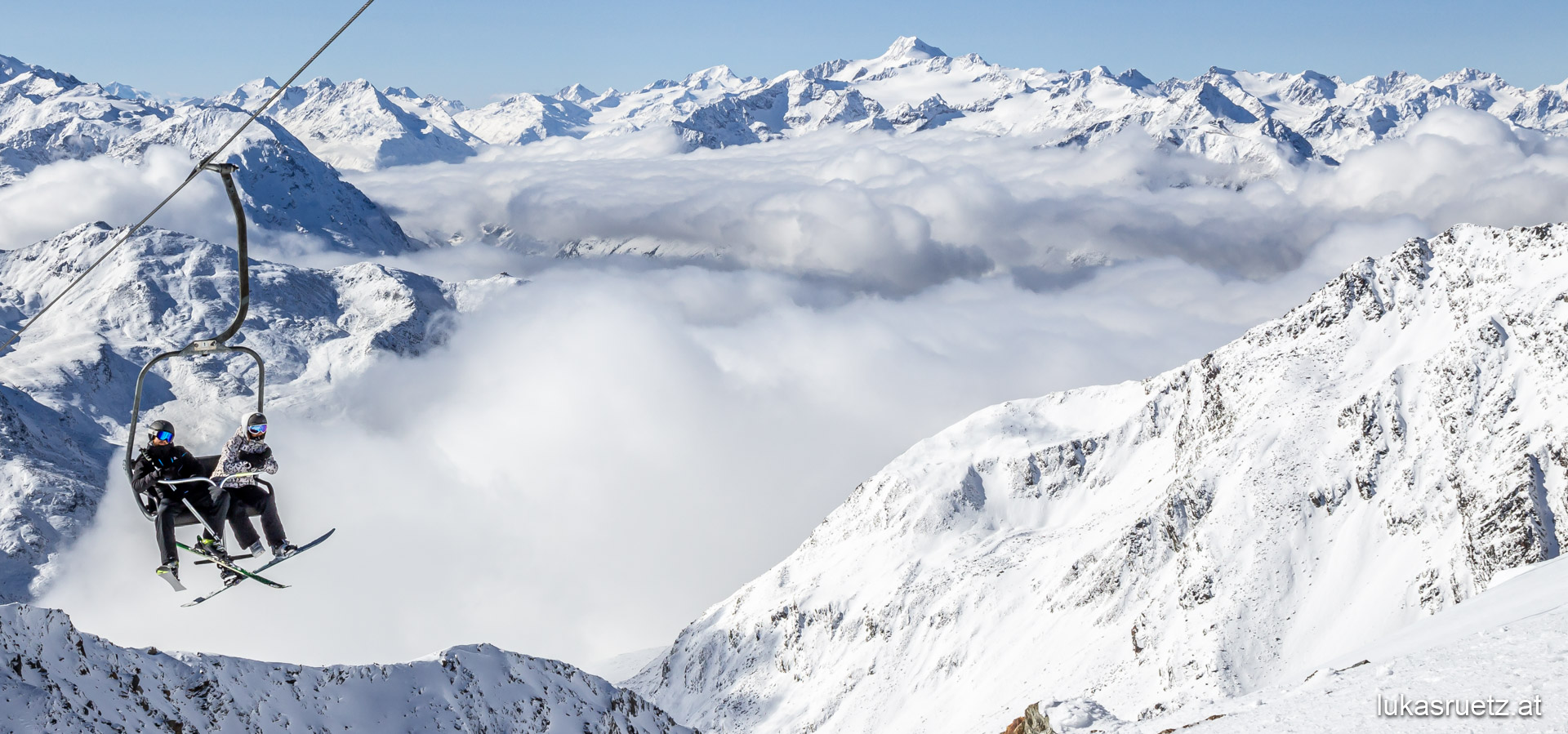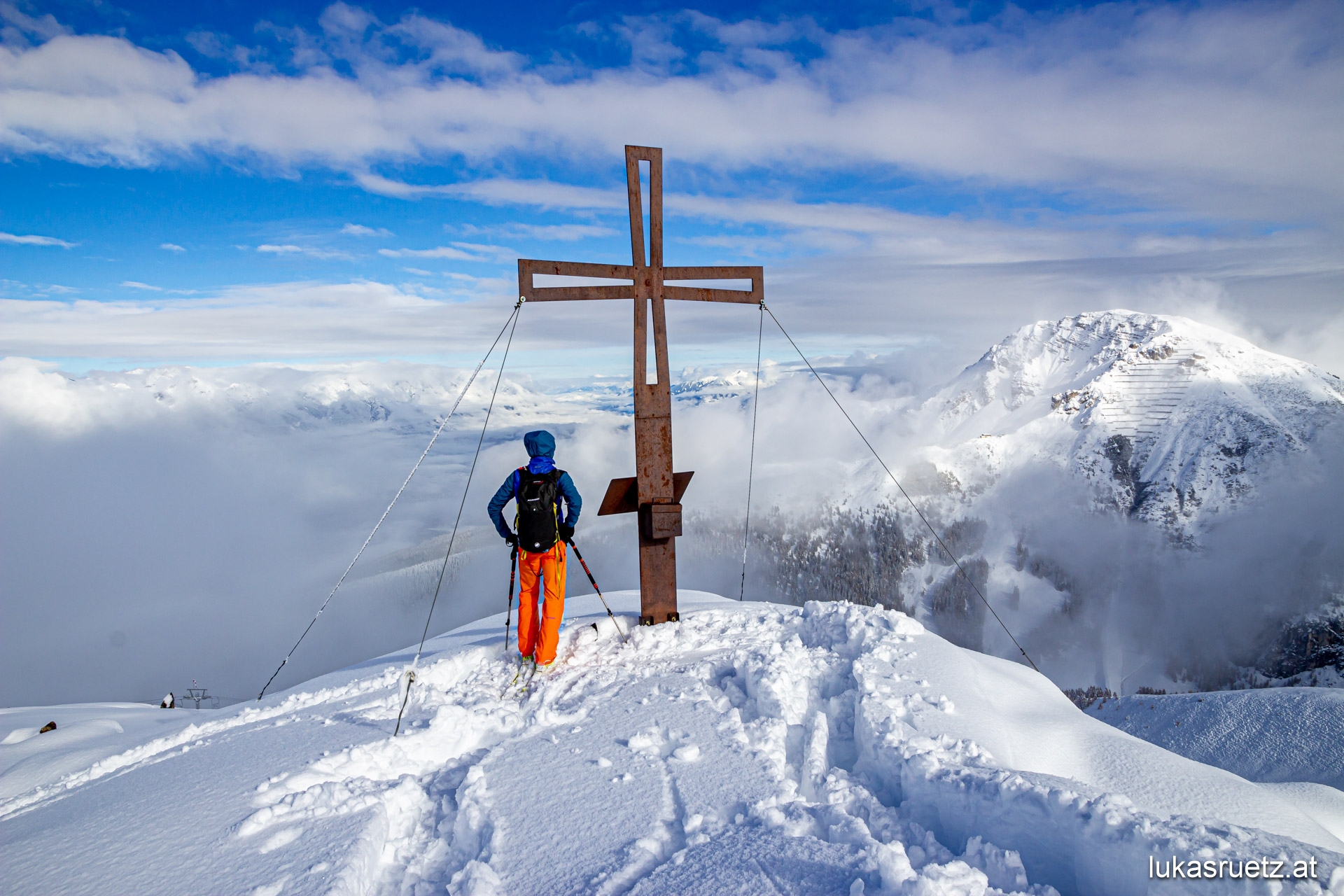 10/25 On the south side, the snow has largely melted again. I'm going on a pretty long mountain tour. The "braking" on my right thigh when going downhill has got much better since my last mountain tour in mid-September, but I still feel my healthy knee afterwards in a negative way.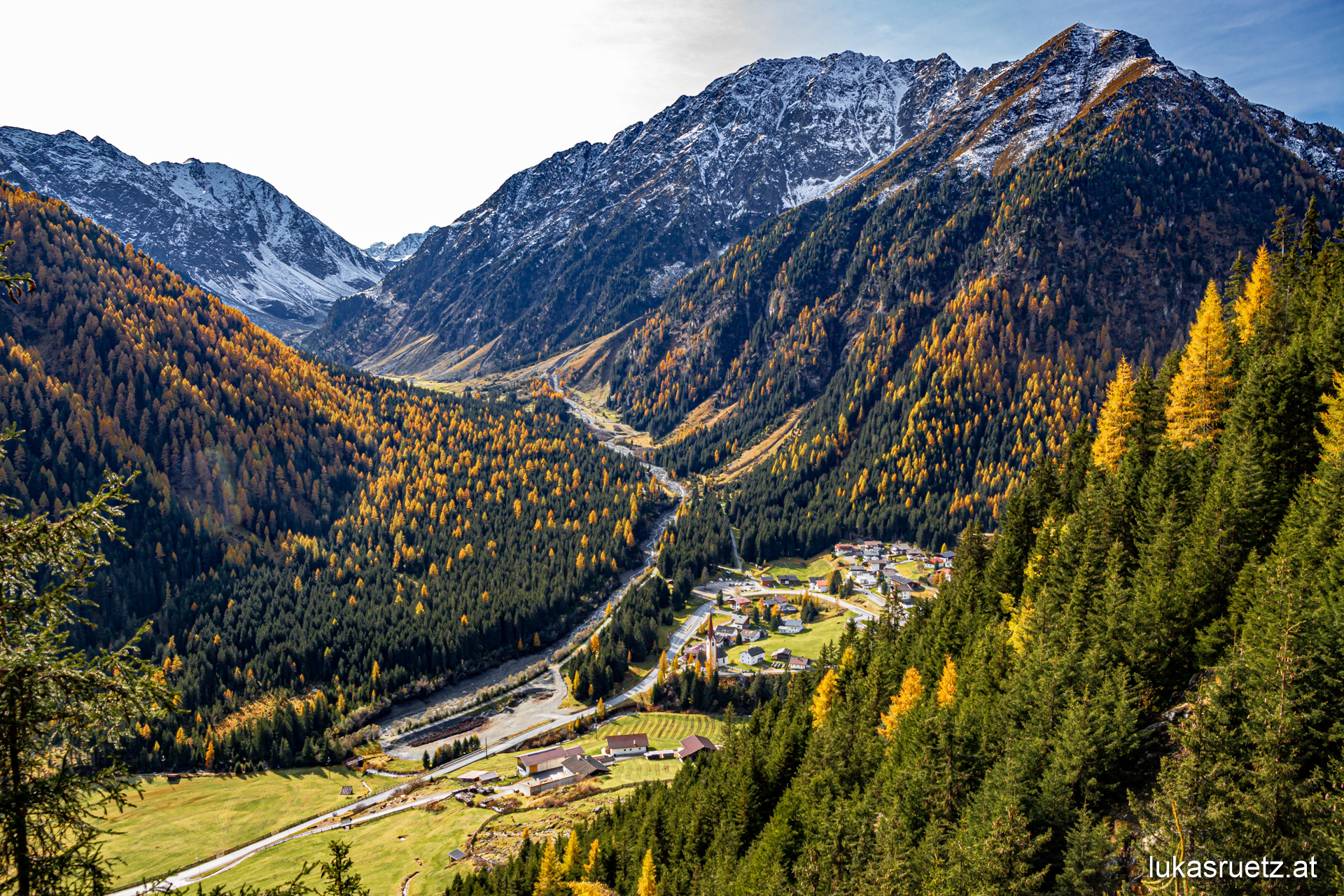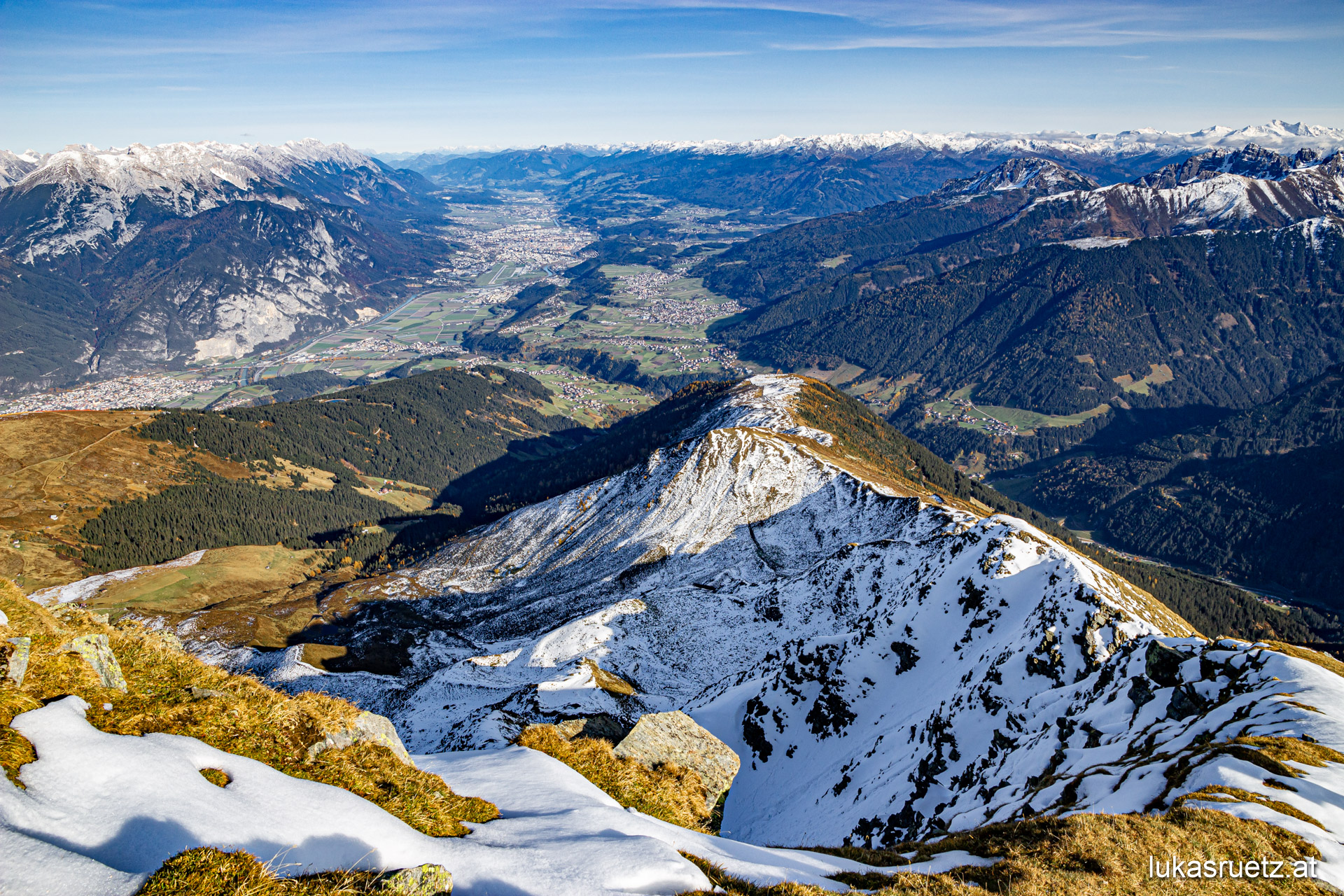 5th month
Always on sports. November is characterized by stable high pressure with little fresh snow. On the sunny side, most of the snowpack melts again. On the shady side, you can go on ski tours on a hard snow surface. Several times a week I alternate between a ski tour on the shady side and paragliding on southern slopes.
Behind the patella pinches regularly and my healthy knee hurts every now and then after exercising. I specifically train the braking on the right thigh, especially the vastus.
The diffraction is getting better and better. It is still not the same as on the healthy knee, but the difference is getting smaller every day.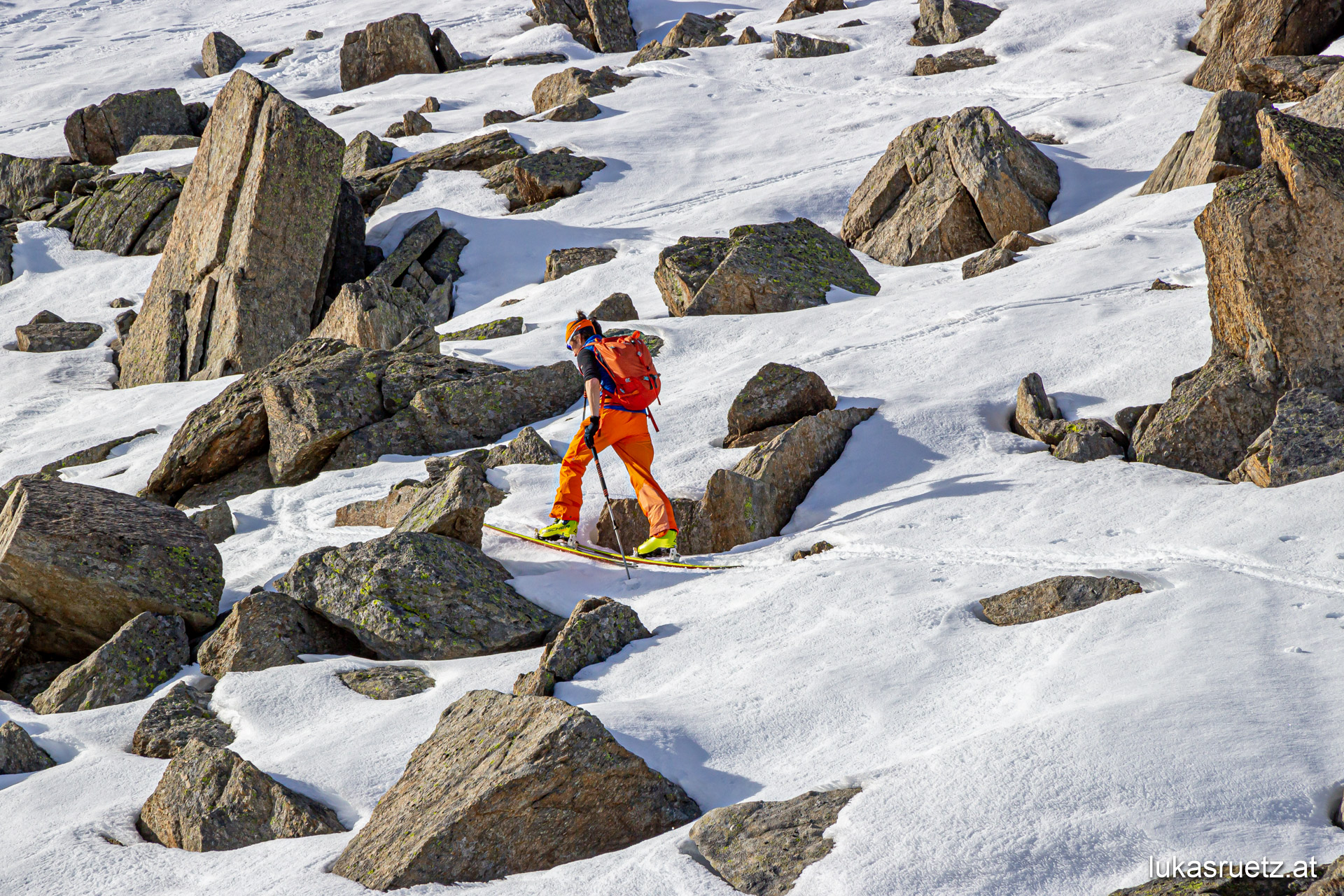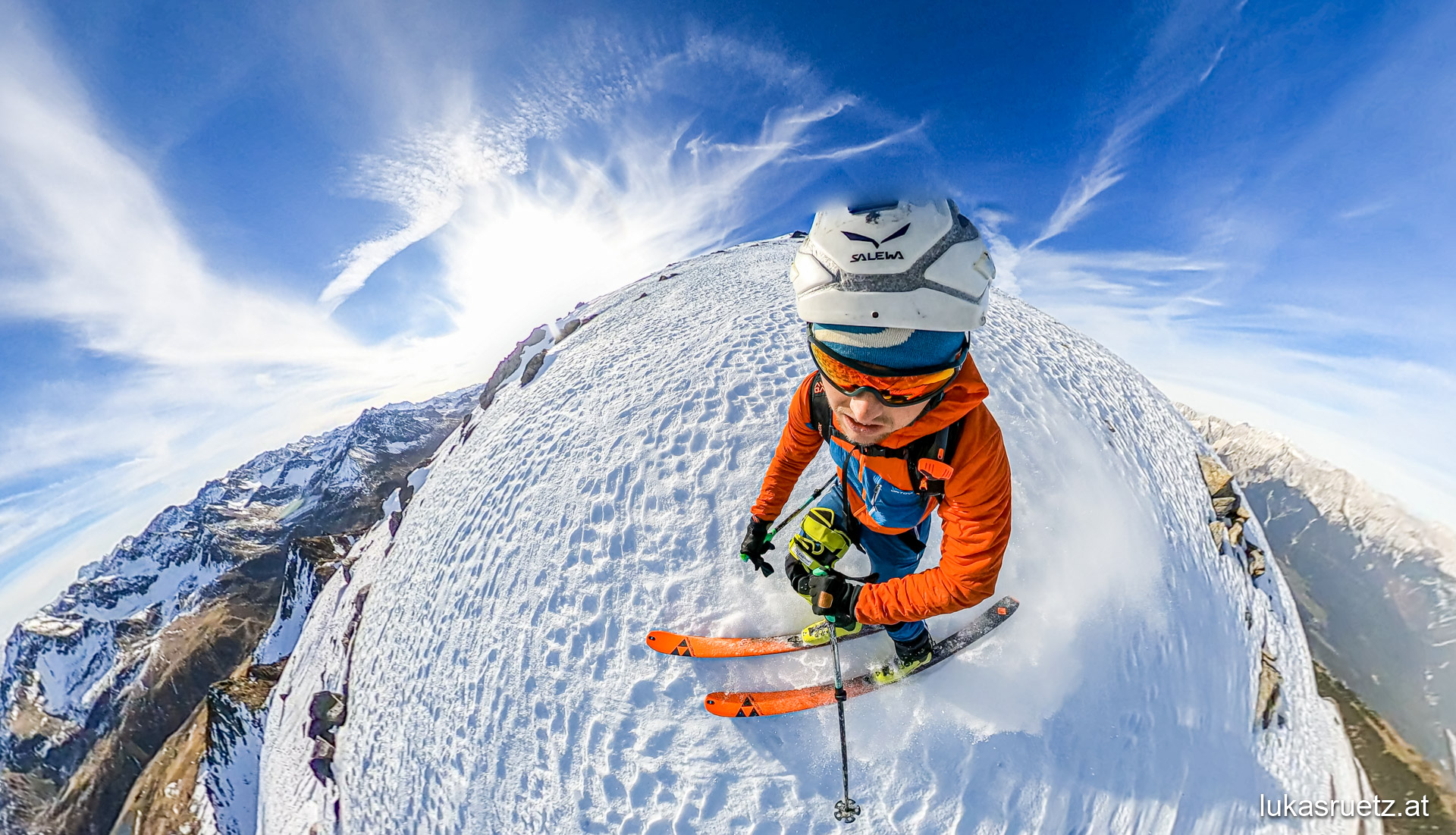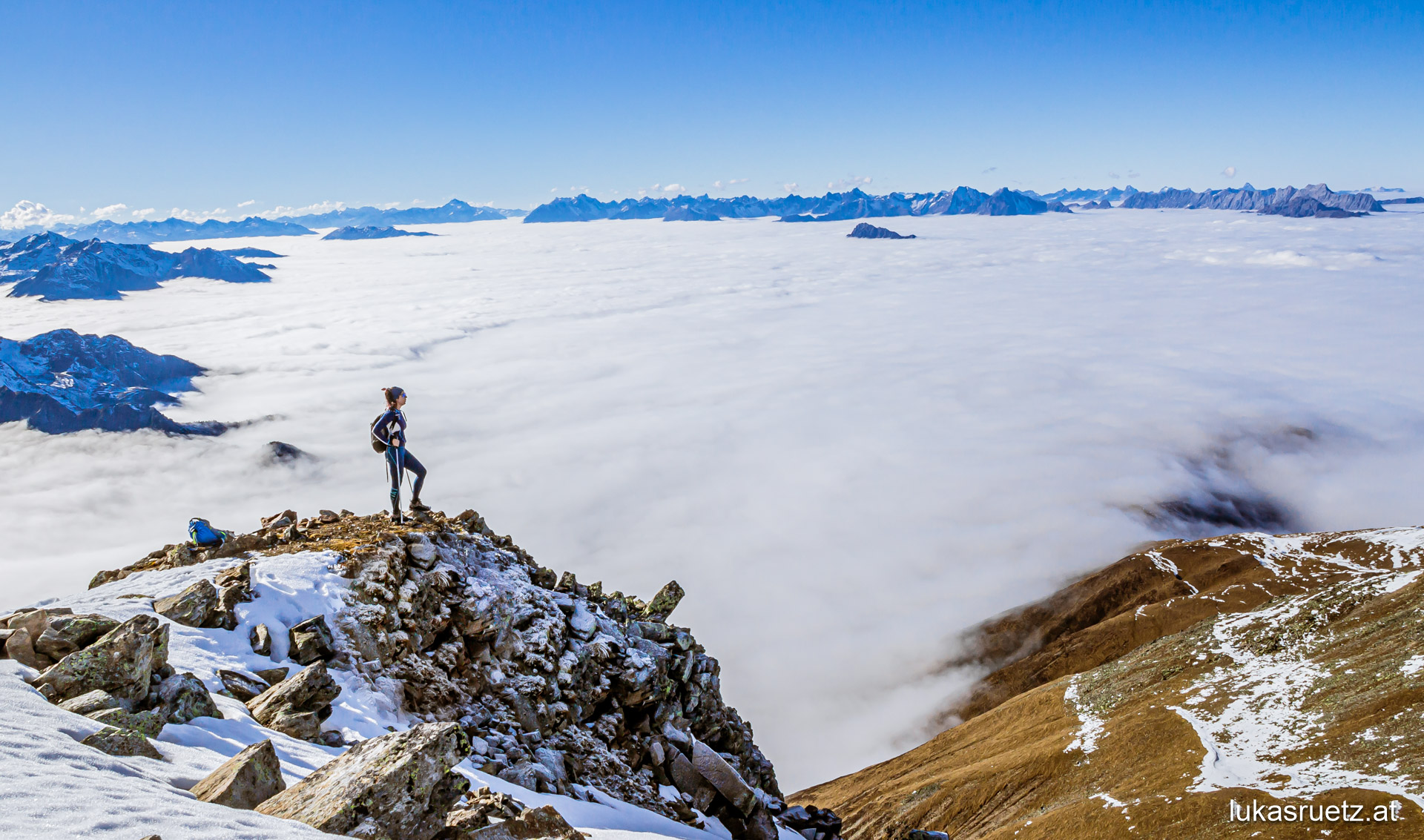 6th month
At home at the beginning of December, there was 125 centimeters of fresh snow within two days. The ski touring conditions are therefore often ideal. From mid-December I will be skiing again without the splint. The last reminder of the "abnormality" is history.
I am always on the road and do a lot of sport. I still make sure that the tours are not too long and stick to a maximum of 2,000 vertical meters. I am not yet taking the risk of unintentional movement / twisting due to muscular fatigue.
My quadriceps haven't reached their old level yet, but building up is a lot faster now than in the first few weeks of exercise. If it continues like this, it should be like the healthy thigh no later than nine months after the operation.
Flexion is back to normal almost exactly six months after surgery. I can move the operated knee completely like the other again.
On January 7th, 2021 exactly six months have passed since my operation. From now on I can officially do everything again according to the doc. In mid-December I had the last check-up at Dr. Fink. Everything is perfect, he smiles and says: "Six months of no ski tours, no skiing, no paragliding is actually the lowest limit a doctor can give, it should be even longer. I don't even want to know how long you've been on skis! " I can only add to that: It was certainly a lot of luck that my cruciate ligament surgery was able to withstand the unworthy renunciation of sport so early.
On December 31st, 2020 I'll be going on an extra long ski tour for the first time again: The Fotscher Express. In exactly eight hours, my friend Markus and I move our asses and our skis over four peaks, 38km and 3,500 vertical meters. For comparison: a beginner usually manages up to 800 vertical meters, an experienced ski tourer 1200 meters and for most ambitious ski tourers the maximum ascent is about 1600m.
After this weak sporting year, my fitness is of course not yet at normal level, but I still managed the long tour without any problems. The pulling behind my kneecap after sports and after skiing has also disappeared and after late lunch I can still work physically at home at our farm without feeling anything. I feel almost the same as before the rupture.
Now I am fully immersed in intense sport again – so that I can regain my physical and muscular level again in the course of 2021.
02/05/2021 Second force measurement for the one-year study after the operation on muscular development in the thigh after the cruciate ligament surgery. On the healthy leg, I get 250 Nm in extension and 125 Nm in flexion. On the operated leg to 247 Nm in extension and 123 Nm in flexion. The legs are de facto equally strong – seven months after the operation. And that only with excessive endurance sports.
With that I stop reporting on my Anterior Cruciate Ligament story. After the photos from December there is a short final consideration :)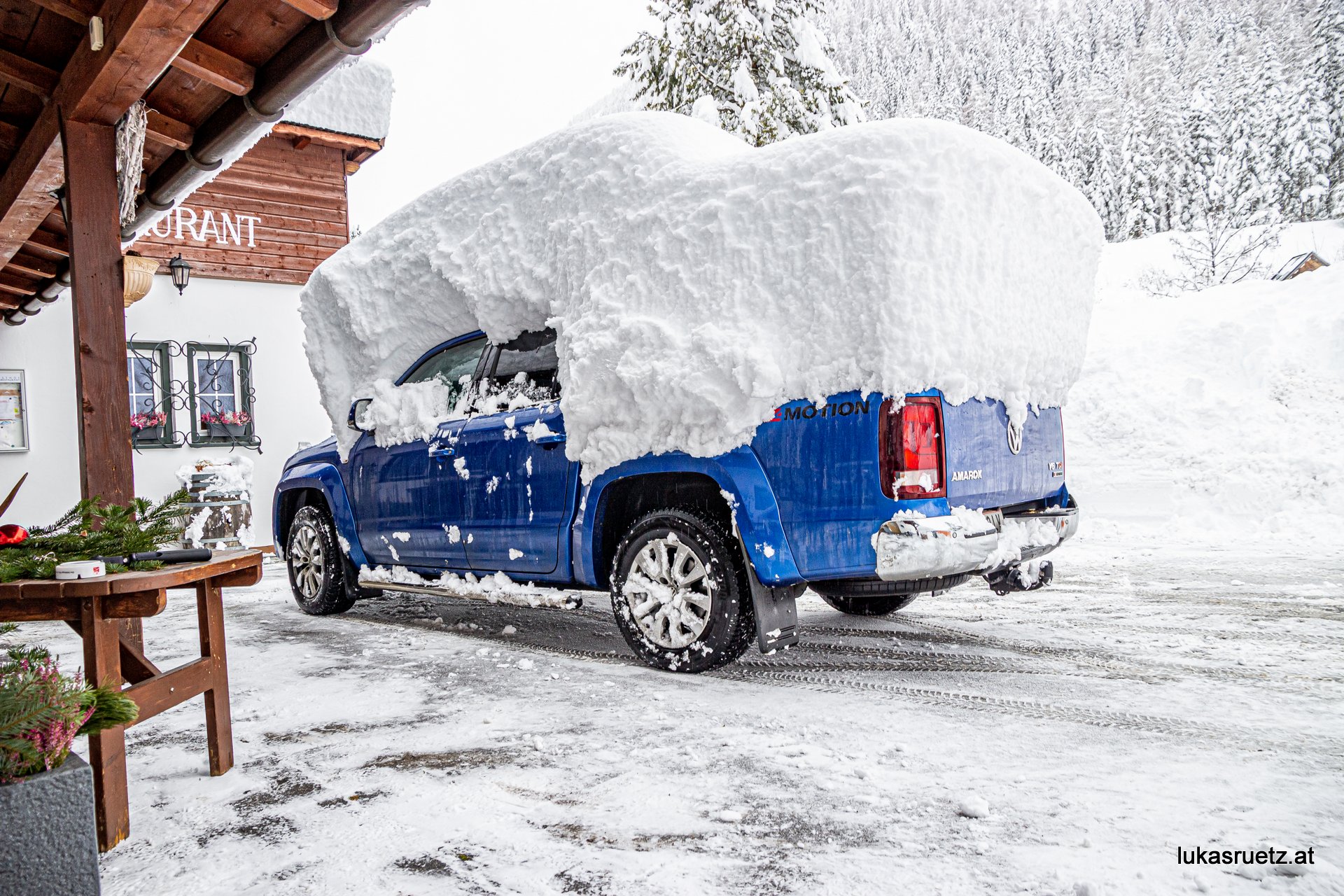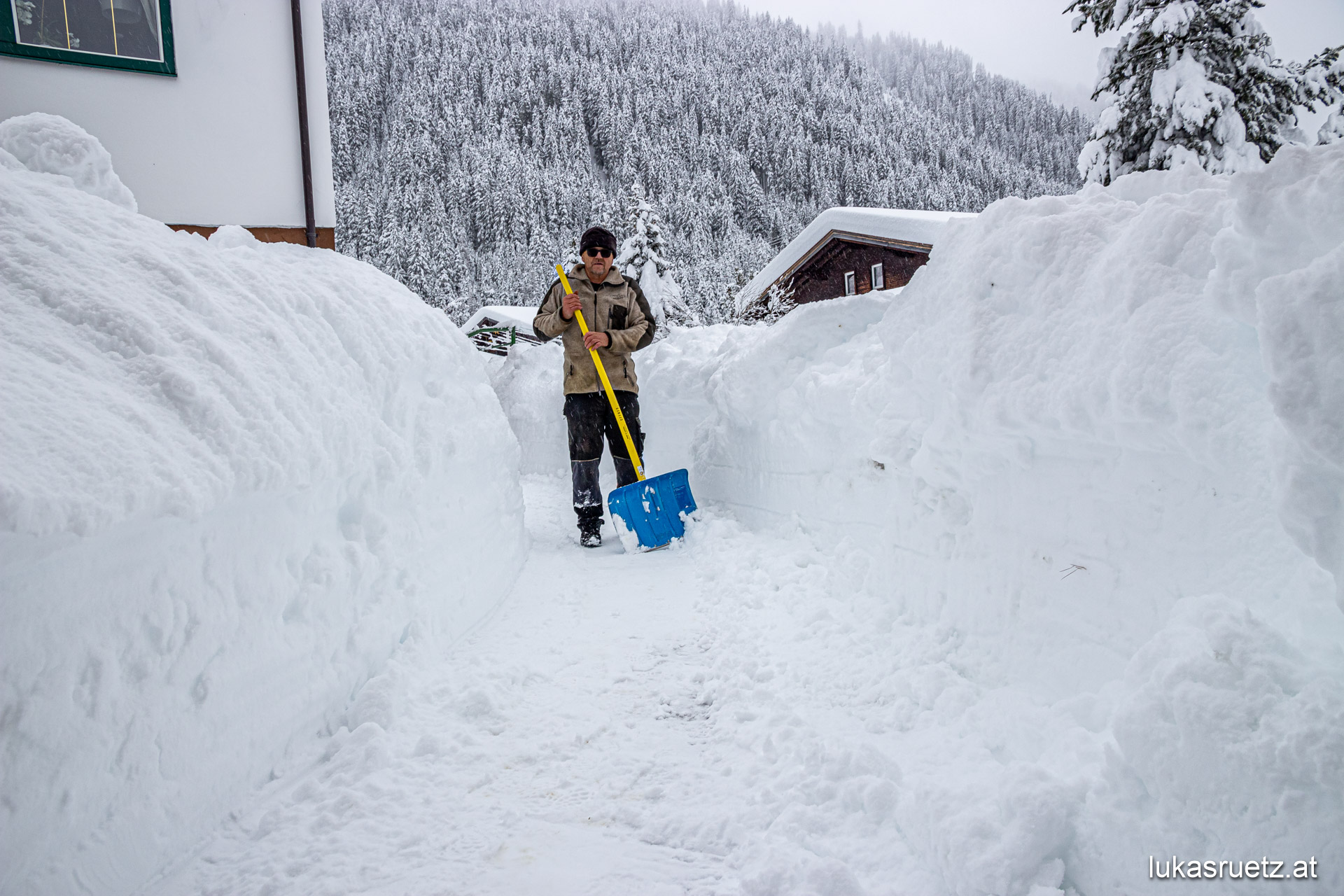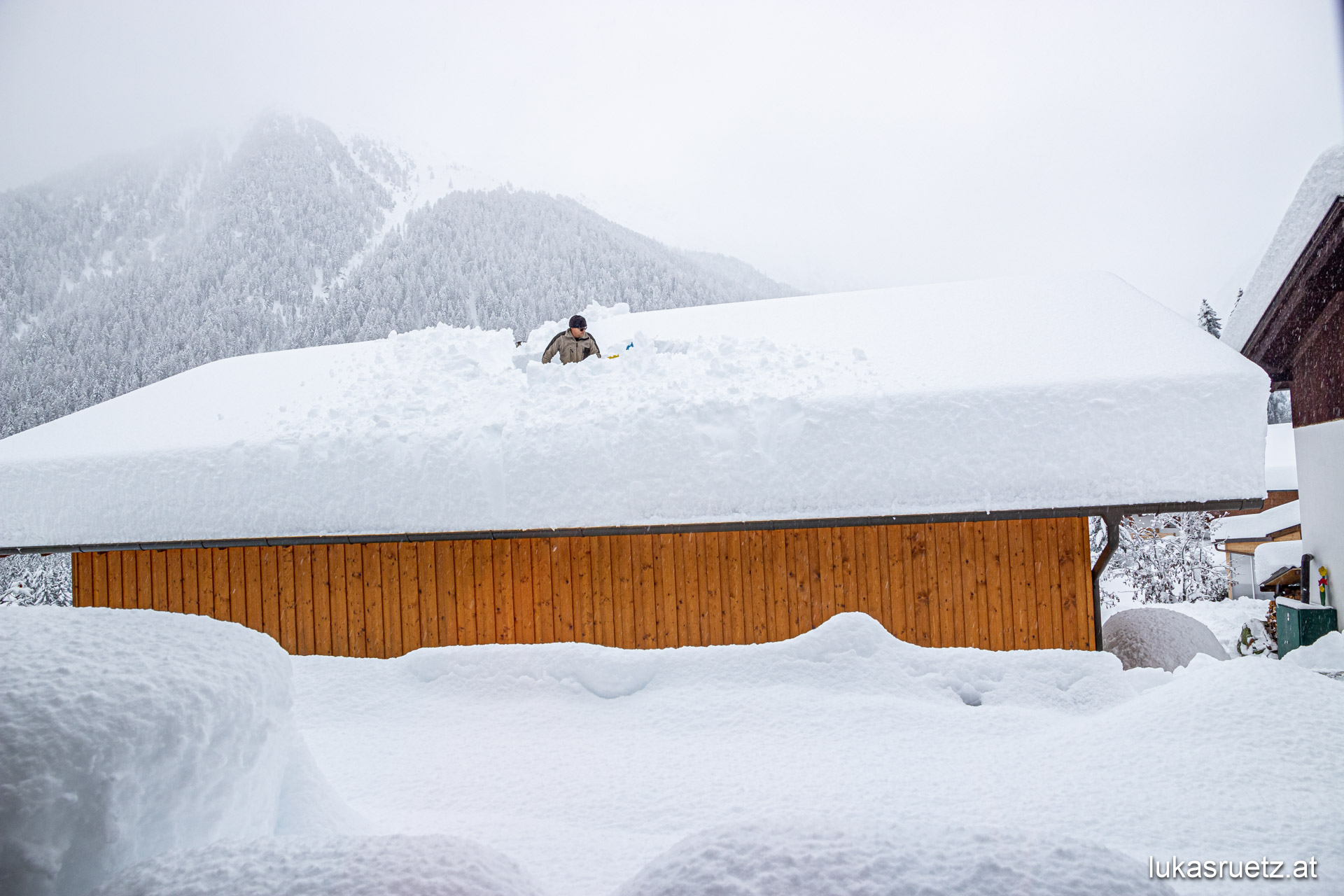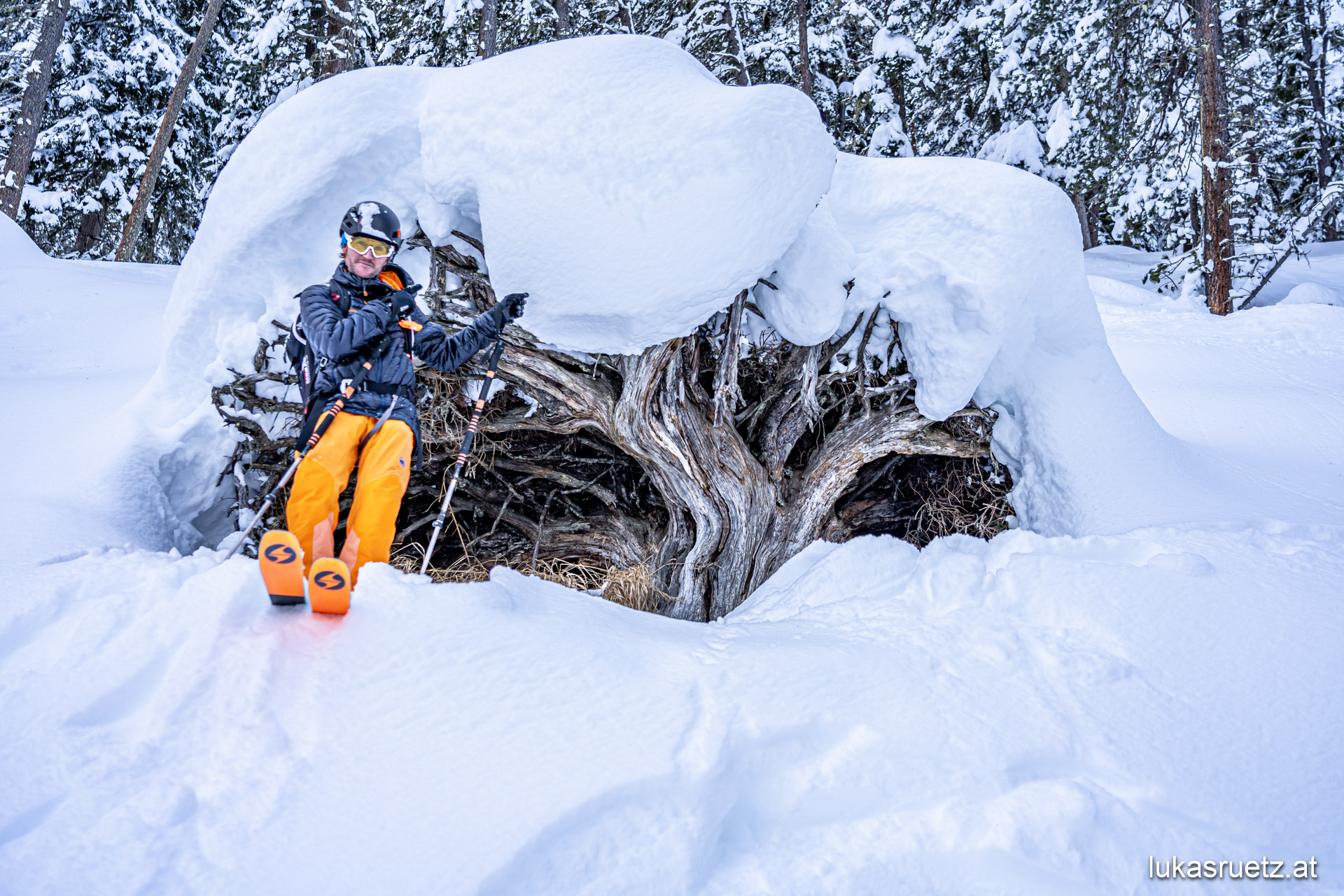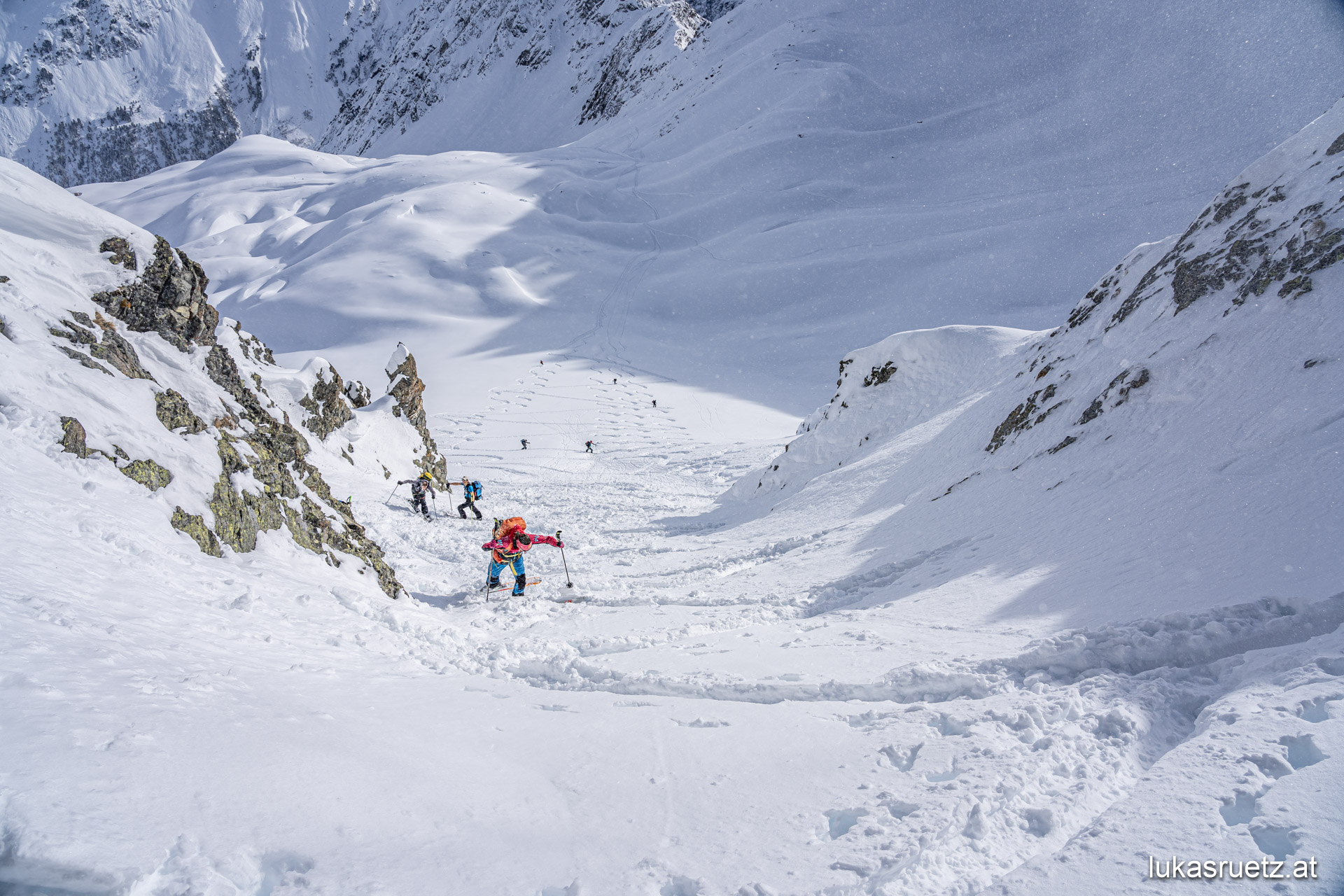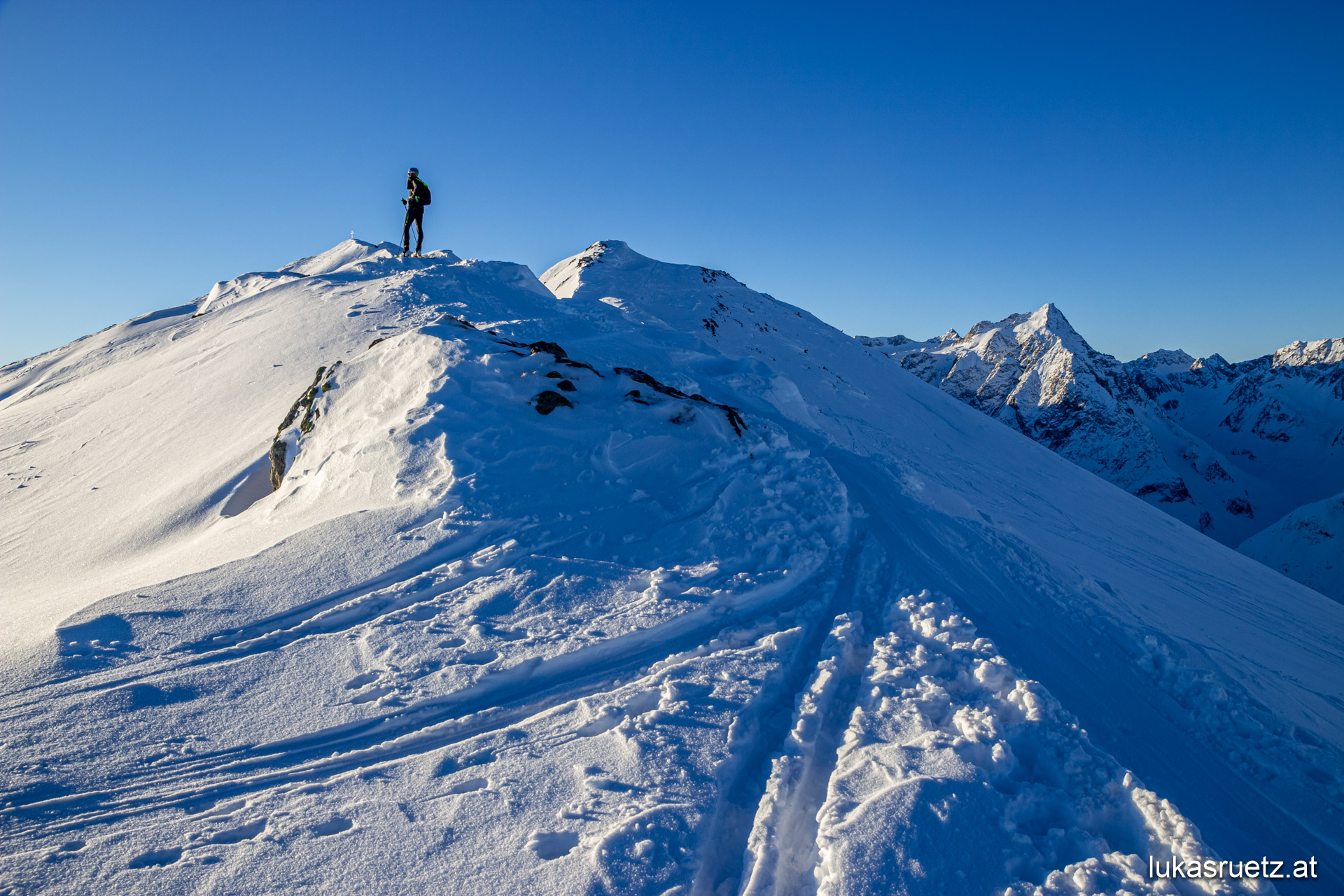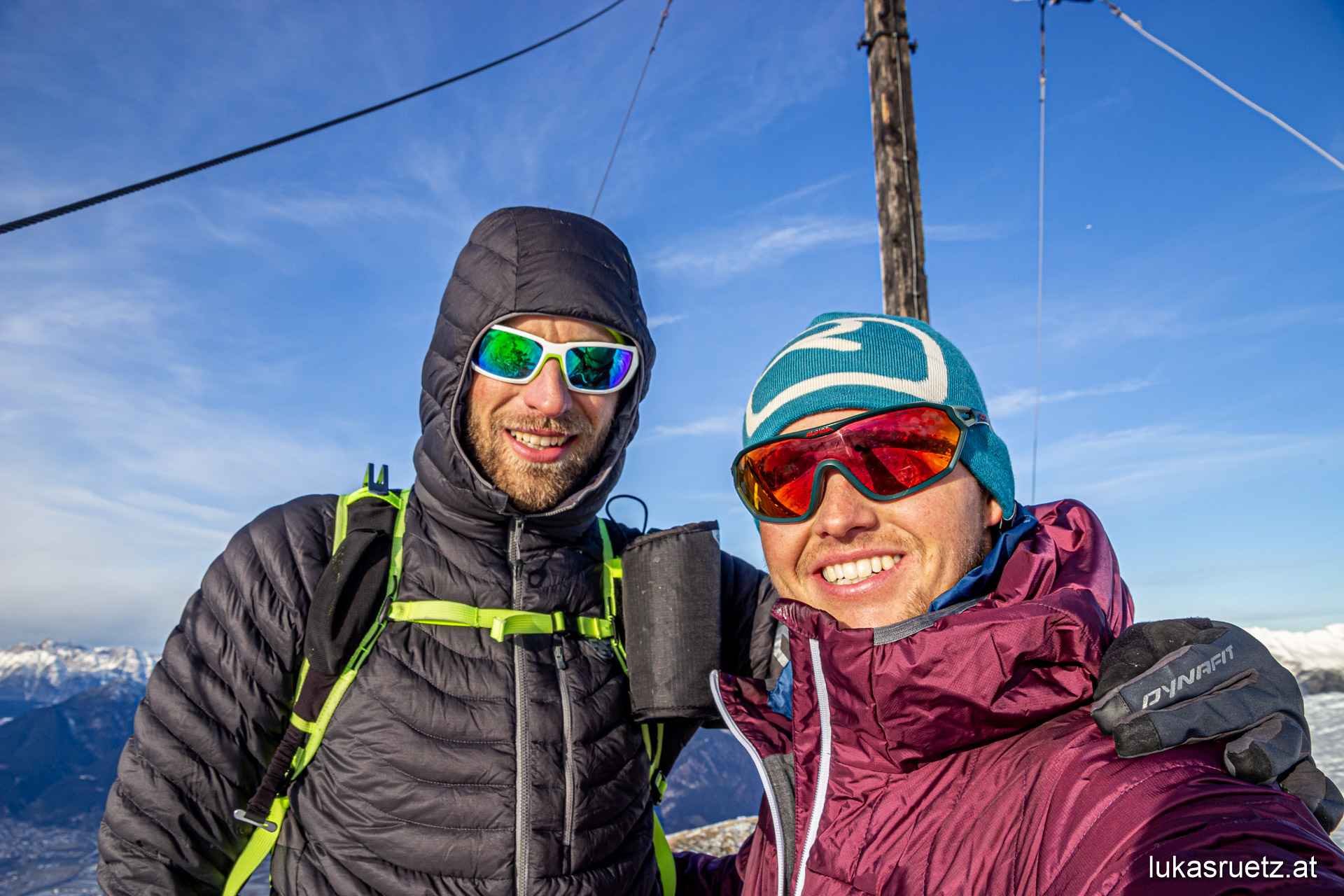 Final consideration
A cruciate ligament tear is a horror diagnosis for an athletic person …
Of course there are injuries that are a thousand times more wild, diagnoses of illness or blows of fate – but of the "little things" the cruciate ligament tear is probably one of the worse. For example, two months after a broken bone you are fully operational again . If the cruciate ligament ruptures, the whole thing can take up to a year.
My course is so far close to the optimum as the story could play out. But I also had a few advantages on my side: my age, the high affinity for movement (after all, sitting is the new smoking!), A balanced diet, no alcohol, a physical constitution that is more similar to a high-performance athlete in relation to the normal consumer, non-smoker. An isolated cruciate ligament tear without any really relevant accompanying injuries. An extremely experienced and well-known surgeon who sports himself ambitiously – together with his well-rehearsed team. An accomplished and  great physiotherapist on my wavelength. It was probably also a fortunate coincidence due to the coronavirus not to operate immediately after the rupture but three months after.
Above all, however, the will, the conviction and the positive attitude to return to the level before the injury. And good luck too, of course.
The best injury is worth nothing. A cruciate ligament tear also costs a lot of time and money. But experience makes you infinitely richer and makes you appreciate life even more.
I wish every cruciate ligament sufferer a good healing process and many "positive" experiences with his/her injury. Come back stronger!