Lesezeit:

5

min
I've developed the SaveU snow-study kit after years of experience in avalanche education for recreationists and over 500 snow profiles dug and recorded by myself.
The snow-study kit was designed for an optimum of packing size and handling for practical snowpack analysis with high quality of the components. The set for recording a snow-profile is so light and handy that it can fit in any backpack. At the same time contains all the important utensils for assessing the snowpack through a snowpit.
The lightweight and compact carrying case includes: a field book with enough space to record many snow profiles and with more info on snow pits, snow crystals and stability tests (German). As well as a 10x magnifying loupe, digital penetration thermometer, snow crystal card (metric grid) and a thin stainless steel rope with hand loops for detaching the test block.
The SaveU snow-study kit is an essential tool for snow science as an avalanche forecaster, ski patroller, avalanche educator, recreationist or your first avalanche course.
Complete study-kit consists:
Robust, compressible, fabric-case 18 x 12 x 4 cm
Polycarbonate snow crystal card 10 x 15 cm (SaveU, English version!)
Field book (only in German)
Fast & high-quality digital thermometer (Celsius & Fahrenheit)
Pencil
Magnifying loupe 10x
Stainless steel ECT cord approx. 1.5 m length / 1.5 mm thickness for stability tests CT, ECT, PST. Three clamps on the rope guarantee better penetration of hard crusts
Total weight approx. 230 g
SaveU Snow Study Kit
Snowprofile-Set
Shipping costs:
Austria: free shipping
Germany: 6 Euros
All other EU countries: 9 Euros
USA, Canada: 23 US-$
South America: 23 Euros
New Zealand: 26 Euros
Payment:
Prepayment/bank transfer
Order and inquiries
via the contact form or at admin(at)lukasruetz.at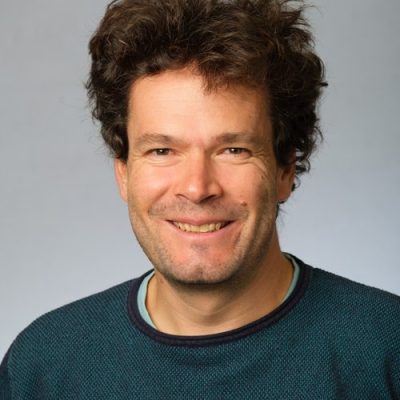 Manuel Sarapatka
Austria
The SaveU set is very handy, light and well packed in the small bag and can thus be easily taken on tour in the backpack. Especially the magnifying loupe, the thermometer and the rope to free the block in the ECT test are well thought out, but also the other parts of the set are functional. I have the snow study kit with me on most ski tours!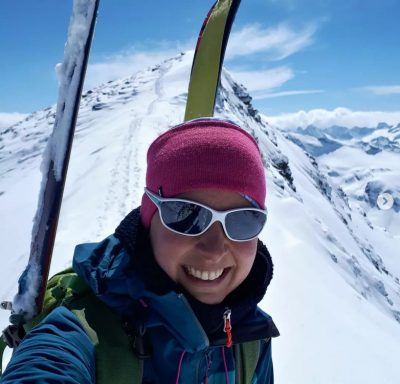 Timea Marekova
Austria
I find the snow study kit of Lukas very fine and it meets with the well-selected components claims for any professional snow profile recording! Especially I like the precise and slim thermometer, which does not tip away so easily fromm fluffy snow as otherwise some other. The rope has fine handles and cuts well through crusts. The wide magnifying glass gives a sharp picture of the crystals, so you can take good photos. All together small and light, and not bulky, also a lot cheaper than what you usually find to buy!!!
Crystal Card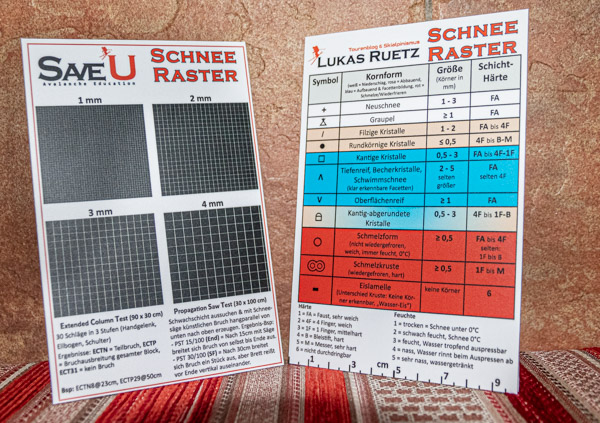 15 x 10 cm
Material: 1 mm thick plastic plate, printed on both sides. Robust & UV-resistant.
Front side: 1, 2, 3 & 4 mm grid as well as info on the most common snow cover tests ECT and PST.
Back side: List of possible hardness and moisture levels of the snow layer as well as table of grain types with size, hardness and symbols.
SaveU Crystal Card
Snowgrid
includes taxes of Austria

Table of grain types, hardness and size
Shipping costs:
Austria: free shipping
Germany: 3 Euros
All other EU countries: 5 Euros
USA, Canada: 10 US-$
South America: 15 Euros
New Zealand: 15 Euros
Payment:
Prepayment/bank transfer
Order and inquiries
via the contact form or at admin(at)lukasruetz.at